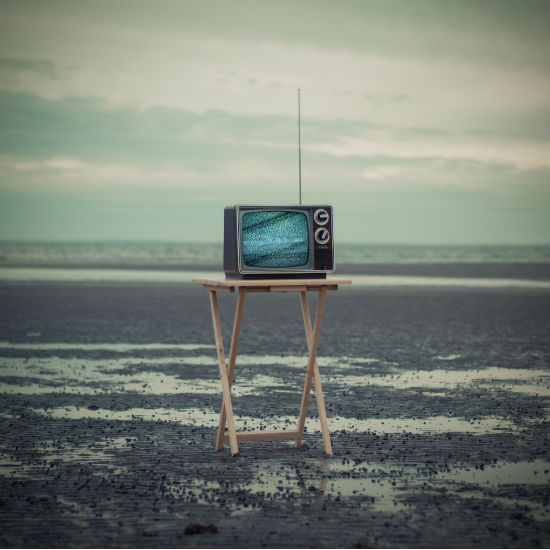 Fetch me some smelling salts!
A large barrel of Skittles and vats of Coke!
A large pair of foam hands which to slap myself awake!
In fact anything that will keep me alert and attentive and concentrating on the endless of hours of TV available to me, and countless others, in this new pleasingly crowded golden age of quality television.
Now it's not that I am complaining that there are so many impressively written and produced out there for our viewing pleasure; on the contrary being swamped with options is one of those #firstworldproblems, to used a well-loved Twitter hashtag, that no one with even half a brain, and a tightly-clenched TV guide, would mind having to deal with.
It's just that there are so many enticing, compelling, wonderful shows to watch.
And it's not simply all the new shows coming our way that we need to concern ourselves with; it's also the returning shows that only three months ago were filling our PVRs with programs unending, and which in the space of a month or so will be back with us once more to do it all over again.
That's a lot of television to be watched, and sleep to be deprived of, if you're going to stay on top of it all and not suffer the virtual PVR equivalent of multitudinous heavy boxes toppling onto our hands from the top shelf of the hallway cupboard.
So to ensure I actually survive watching TV, and it doesn't feel like some sort of weird Japanese endurance game show where I am juggling, for hours on end, a knife-carrying elephant while clowns with mallets whack me like a pixel-eyed mole, I have picked 6 shows, yes just 6, that will have pride of place on my viewing schedule, leaving the other hopefuls to be fitted in whenever I am not watching a movie, reading a book or listening to book … or yes watching my PVR's hoarded goodies.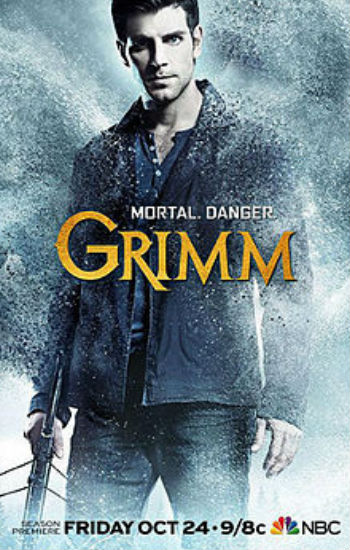 Everyone's favourite Grimm, Mick (David Giuntoli), a man who has developed a wholly different relationship with the animal-like Wesen that are the basis of the gods and goddesses of old, and the creatures of myth and folklore, than his ancestors did, finished off the show's action-packed third season robbed of his powers by the ever-conniving and gleefully vengeful Adelind Schade (Claire Coffee).
The burden of being a Grimm has always sat uneasily on Nick's shoulders, and yet with it taken away from him with no say in the matter, will he want to do whatever it takes to regain them or is the lure of a quieter life far away the titanic battle between good and evil into which he was unceremoniously dumped three years prove too powerful?
This struggle between who he was, and who he is now, and whether he can go back from whence he came, will form one of the central planks of season 4's narrative as will the uncertain fate of Captain Sean Renard (Sasha Roiz), his Wesen princeling boss and unlikely ally, who was shot in the closing moments of season three's final episode.
But Nick and Renard won't be the only characters with great battles on their hands.
According to TV Guide, Louise Lombard (CSI) will appear in at least three episodes as a "mysterious woman connected to the royal families" who goes head-to-head with Adelind who is hellbent on retrieving her baby who she mistakenly believes has been stolen by evil Wesen Prince Viktor (Alexis Denisof).
Juliette (Bitsie Tullocj) of course has to find a way, yet again, to bridge a yawning gap in her relationship with Nick thanks to  the infidelity he committed but didn't (trust me it does make sense) while newlyweds Monroe (Silas Weir Mitchell) and Rosalee (Bree Turner) who wedding was interrupted in spectacularly dramatic fashion, must cope with being exposed as Grimm sympathisers, a rather big social no-no in the conservative world of the Wesen.
If that's not enough to keep you interested, Nick's police colleague Sergeant Wu (Reggie Lee) may or may finally come to grips with the fact that Wesen are real – if Nick's partner Hank (Russell Hornsby) can do it then I am sure so can Wu though not without, as Lee terms it (and which was reported by TV Guide), some "some shirted rage" – while newly-discovered Grimm-let  Theresa "Trubel" Rubel (Jacqueline Toboni) ends up as Nick's window to his lost world.
It all adds up to another fiercely busy, thoroughly compelling season where the reality we know, and the mythological reality just out of sight will come together once again for absolutely captivating television.
Grimm returns with season 4 on October 24 on NBC.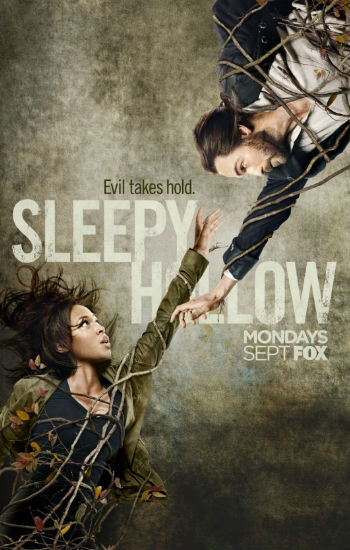 Sleepy Hollow was one of the big hits of last season, a cleverly-written show that threw together end of the world Christian theology, mythical creatures and American history to endlessly captivating effect.
On paper at least, those three elements might sound like clunky bedfellows with nothing in common, but in the hands of showrunner/executive producer Mark Goffman, and the show's talented writers, it's an enthralling postmodern that works week in, and week out.
Season 1 ended of course with one half of the Two Witnesses tasked with preventing an apocalypse of literally Biblical proportions Abbie Mills (Nicole Beharie) – the one being 250 year old Ichabod Crane, played by Tom Mison – choosing to remain in Purgatory ruled by the demonic Moloch so that Ichabod's wife, who is also powerful witch, could join with her husband in stopping the appearance of the second of the Four Horseman of the Apocalypse, War, during a looming eclipse.
Surprise! Turns out that this Horseman, an addition to evil equine-riding ranks hitherto occupied only by the throughly evil Headless Horseman (played by a number of actors) – who was once Ichabod's best friend before turning to the dark side for revenge – is actually Ichabod and Katrina's lost son Jeremy (John Noble), unhappy that he ended up buried alive for two centuries (as you would be).
How unhappy is he?
To Ichabod and Katrina's horror, he allows the Horseman of Death – charming bunch aren't they? – to spirit Katrina away while he buries his father in a coffin deep underground, a sequence of events that Abbie's sister Jenny (Lyndie Greenwood) is unable to stop after the Headless Horseman waylays her.
Does it all sound gloriously, unwatchably over the top?
Well thanks to stellar writing, impressive performances and seamless stitching together of all kinds of myths, legends and theologies, Sleepy Hollow works and work magnificently well, and I have every reason to believe that an extended 18 season season 2, which has a whole lot of amazing developments in store including the arrival of Abbie and Jenny's mother, and Timothy Busfield as Benjamin Franklin, whose experiments with electricity created a door to Purgatory, will be every bit as wildly imaginative and satisfying to watch as the first.
Sleepy Hollow returns with season 2 on September 22 on Fox.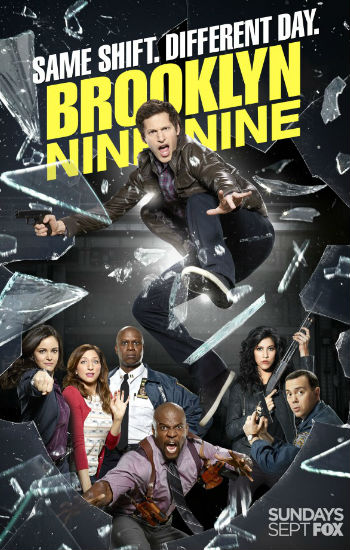 Brooklyn Nine Nine is one of the best sitcoms to come along in years.
Nailing the spirit of classic police sitcoms like Barney Miller and Police Squad, and making brilliant use of a stellar cast include Globe Award-winning Andy Samberg as Jake Peralta, a gifted detective with more than a few comedy-inducing attitude and maturity issues, and Andre Braugher as his taciturn boss, Captain Raymond "Ray" Holt, it was one of the runaway stars of last season, proof positive that in the right hands, the sitcom is alive and well.
With a talented ensemble class of finely-drawn characters all played by gifted comic actors, Brooklyn Nine Nine managed to balance delivering laugh-out-loud visual and verbal comedy with some touching dramatic storytelling in its first season – but not too much of course; it's not a dramedy after all – and according to Bustle, things are only going to get better in the upcoming second season:
"Season 2 is packed with owesomeness all around. There will be special guest appearances by Kyra Sedgwick as the nemesis of Captain Holt, played by Andre Braugher, and Jenny Slate will also guest star as Bianca, a rough and tough "mob mistress" who runs into Jake (played by Andy Samberg) during an undercover operation, and could be the one to help him bring the mob to justice."
Am I laughing already in anticipation? Why yes, yes I am, and frankly you should be too.
Brooklyn Nine Nine returns for a second season on September 28 on Fox.
The Middle is the little sitcom that could.
When I first heard about the show, a number of years ago now of course, as the show is heading into a sixth season this year, neither its premise nor its stars had me overly excited.
While I was a fan of the actor who plays Mike, the father of the hilariously named Heck family, Neil Flynn from his days of Scrubs, his presence was not enough to convince me that The Middle, which also starred Patricia Heaton as mum Frankie from Everybody Loves Raymond, a show I found grating and didn't much care for, and possessed a generic family-centric premise, wuld be worth my time.
But then I listened to my housemate, who'd been watching the show for a few seasons and raved about how subversively, crazily funny it was, and watched a few episodes and discovered that it was far better than I could have imagined.
In the process I fell headlong in love with the show, and the gloriously, hilariously dysfunctional Hecks – especially blissfully unaware and naively optimistic Sue Sue Heck (Eden Sher, and no her name is not a typo alas) – who despite flaws aplenty and a perennial shortage of cash and longterm prospects, somehow manage to muddle through.
So my delight at a confirmed sixth season was unbounded, as was the news it will be keeping Modern Family and The Goldbergs company this coming season.
The Middle premieres its sixth season on September 24 on ABC.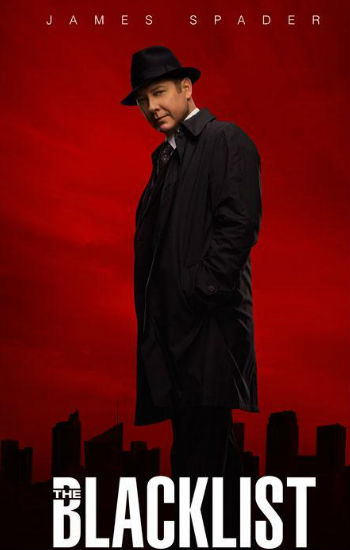 Here's another show that greatly surprised me.
Expecting good things from the show – it made my list of new shows to watch last year – not least because it starred the supremely-talented James Spader as James "Red" Reddington, a master globetrotting criminal of suspect agenda and dubious morality, I watched the pilot episode eagerly, which though enjoyable, hardly set my TV viewing world on fire.
While based on the intriguing premised of Reddington, one of the FBI's most wanted men, thanks to a career helping some of the sleaziest, most dangerous criminals on the planet do their thing, coming from the cold and turning himself in in exchange for the assistance of the FBI, and most specifically Special Agent Elizabeth Keen (Megan Boone), to bring some of his former clients and associates to justice.
As the season progressed, the show increasingly shed its dependence on an episodic baddy-of-the-week narrative framework in favour of a compelling, richly-told overarching storyline where we discovered far more about Red's motivations, his connection to Keen and his knowledge of the falsehoods and misinformation underlying her life which, by season one's end, bore no resemblance whatsoever to her contented life at the beginning.
It was gripping, finely told and ended with the mother of all action-charged finales, leaving me far more excited than I expected to be for season 2 which has a lot in store according to Entertainment Focus (which has gathered all the promos together), including the appearance of "Paul Reuben aka Pee-Wee Herman will guest star as mafia henchman Mr. Vargas".
The Blacklist returns with its second season on September 22 on NBC.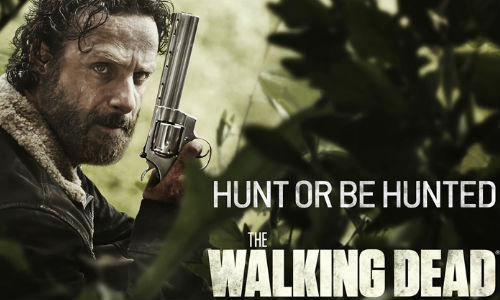 They're mad as well and not going to take it anymore!
Granted Rick (Andrew Lincoln) wasn't able to lean out a window and say this, locked up as he was, along with pretty much everyone else from the prison gang – save for Carol (Melissa McBride) and Tyreese (Chad Coleman) and the Little Asskicker who are still enroute to the extraordinarily dubious, likely cannibalistic delights of Terminus – but as the promo trailers to date have shown he is not happy.
In fact he is so angry that there is a very good chance, an excellent one in fact, that head honcho Gareth (Andrew J. West) and every other suspiciously well fed person at Terminus will regret locking Rick and his hardy band in that railcar at the end of the uniformly excellent fourth season of The Walking Dead.
Now with the fifth season beckoning, all sorts of questions are being raised about whether everyone will escape the rail car … that would be a big YES from Robert Coleman via Bustle:
"They definitely get out of that of that train car. They do not spend the entirety of Season 5 in that train car. It is through ingenuity, creativity, and somewhat savageness that they are able to make it out of the train car. There will be resolution."
If we'll find out what happened to Beth who is still missing – "Beth's story, whatever it is, will be told. That question will not linger." – and whether there is really any high ground that Rick and the others can occupy vis-a-vis the folks at Terminus, especially their leader Gareth – "He falls way more towards the Rick character or even Glenn [than The Governor]. He's a way more normal guy who's just trying to survive."
And as you'd expect there will be lots of bloody, violent action, plenty of walkers, new characters, and more than enough moral conundrums to empty them all into as humanity does its best, once again, to cope with the undead end of the world.
The Walking Dead lurches onto your viewing schedule on October 12 on AMC.