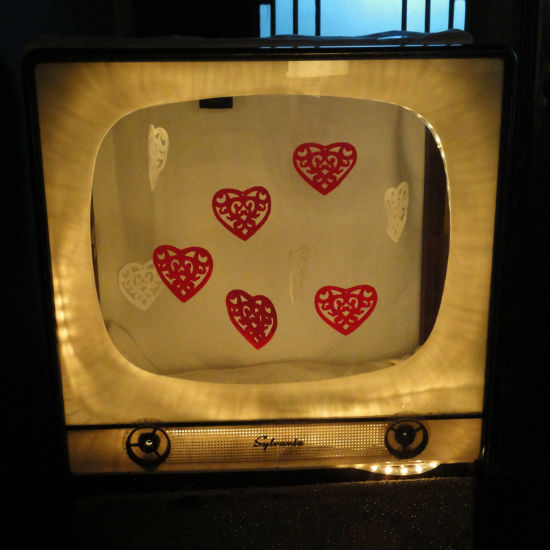 Rejoice those of you with too little TV to watch, there is an avalanche of fresh programming on its way!
For the rest of us, who are happily close to drowning in the rich seas of the new golden age of TV, and are watching more programs that we have hours in the day, these new shows promise to make programming the PVR, contributing to water cooler conversations, and yes even getting enough sleep even more challenging than it already is.
But better to be spoiled for choice with innovative interesting drama and sitcoms than to be forced to subsist on a diet of reality TV programs, all of them resting on premises more vapid and superfluous than Kim Kardashian's entire life.
Having already reviewed some new sci-fi shows and superhero series coming your way in coming months, it's time to take a look at 10 shows that I think have a chance of being entertaining, without boring us with concepts we have seen a thousand times before.
Granted some of the shows are not strictly speaking going to premiere in the fall, but I have included simply as a way of showcasing some of the highly promising shows soon to be on offer.
Until they arrive, and many are close to premiering, you may want to invest some time trying to figure out how fit more than 24 hours in a day.
If you succeed, please let me know.
LAST MAN ON EARTH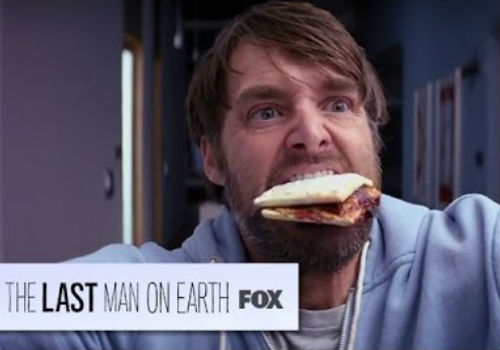 SNAPSHOT
Created by and starring Will Forte (Nebraska, Saturday Night Live) and directed by Chris Miller and Phil Lord (The Lego Movie, 21 Jump Street), The Last Man on Earth is a new single-camera comedy about the life and adventures of the last man on earth. Phil Miller (Forte) was once just an average guy who loved his family and hated his job at the bank – now he's humanity's last hope. Will he ever find another person alive on the planet? Would hoping that she is a female be asking too much? (official synopsis  via Collider)
This is one of the few shows from this pilot season that looks wholly, wonderfully original, reason enough to check it out when so many other shows are clamouring for your Visine-buttressed eyeballs.
Add to that the fact that is stars the incomparable Will Forte, that it's based on an idea he came up with, and it's executive-produced by the amazing team of Chris Miller and Phil Lord and you have one of the most out-of-the-box interesting shows of the season.
And hey who wouldn't have fun, at least for a while, doing all the stuff you never had the time or money to do if you were the last, or possibly next to last person on Earth?
Granted it isn't technically a Fall TV show, until of course you are possessed of magical powers and can forestall the start of winter by, ooh say, 6 months or so, in which case the inhabitants of Game of Thrones may well thank you till your ears bleed, but it is a new show, it will hit screens just when so many other shows are dead or dying (now there's a mental image for you … gasping for breath pixels) and most definitely looks like it will stand out from the crowd, regardless of when it debuts.
Last Man on Earth debuts in early 2015 on Fox.
CONSTANTINE
SNAPSHOT
Based on the wildly popular  DC Comics series Hellblazer, seasoned demon hunter and master of the occult John Constantine (Matt Ryan, Criminal Minds) specializes in giving hell… hell. Armed with a ferocious knowledge of the dark arts and his wickedly naughty wit, he fights the good fight — or at least he did. With his soul already damned to hell, he's decided to leave his do-gooder life behind, but when demons target Liv (Lucy Griffiths, True Blood), the daughter of one of Constantine's oldest friends, he's reluctantly thrust back into the fray – and he'll do whatever it takes to save her.

Before long, it's revealed that Liv's "second sight" — an ability to see the worlds behind our world and predict supernatural occurrences — is a threat to a mysterious new evil that's rising in the shadows. Now it's not just Liv who needs protection; the angels are starting to get worried too. So, together, Constantine and Liv must use her power and his skills to travel the country, find the demons that threaten our world and send them back where they belong. (official synopsis via Collider)
Leaving aside the fact that my friends, parents, and no doubt Mr Choi from my local Chinese takeaway think I am obsessed with apocalyptic/near-apocalyptic/supernatural TV shows – guilty as charged your honour – Constantine looks like a show more than worth adding to my viewing schedule.
The production values look first rate (here's hoping they don't downgrade those as the show goes on), the visuals suitably dark and spooky, and the premise, based on DC Comic's Hellblazer series of comics epic beyond measure (although be on broadcast TV, don't expect it to be as gritty as an HBO or AMC show would be).
And as Supernatural, which is somewhere around its 645th season will attest, it's the sort of idea that can be twisted, turned and contorted into all manner of imaginative, otherworldly narrative, guaranteeing it a long and healthy lifespan should the TV gods be so kind and not consign it to purgatory.
Which Constantine would totally and convincingly break out of in no time flat, naturally …
Constantine premieres on October 24, 2014 on NBC.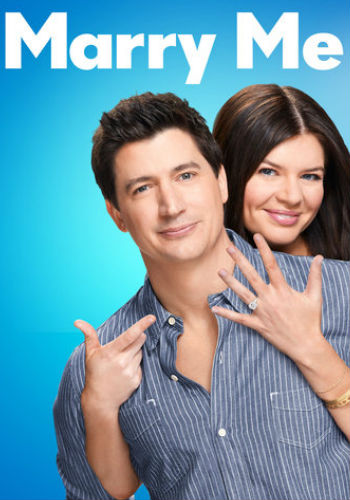 SNAPSHOT
Six years ago, Annie (Casey Wilson, Happy Endings) and Jake (Ken Marino, Eastbound & Down) bonded over their mutual love of nachos and they have been inseparable ever since.

Now, after returning from a romantic two-week island vacation, Jake's all set to pop the question. Before he can ask, though, Annie lets loose on Jake for his inability to commit. She was expecting him to "put a ring on it" in paradise and now Jake's perfect proposal is ruined. Not wanting to spend the next 60 years talking about that mess of a proposal, Jake and Annie decide to hold off on the engagement until they can do it right. Yet if history tells us anything, it's when we really want things to go right that they all tend to go wrong. (official synopsis via NBC)
I am the king of sitcom optimism.
Why just last year, I actually thought, yes I really actually thought The Millers, starring the awesomely talented Will Arnett, Beau Bridges and Margot Martindale, was going to an absolutely sides-splitting, breath-stealing, hilarious show.
I was wrong.
And yet … and yet … I go once more to the glass-half-full sitcom well, expecting that Marry Me will everything that The Millers was not.
It's based on an excruciatingly amazing trailer – when you watch it, you'll know exactly what I mean – the presence of Casey Wilson from the still-mourned sitcom gem Happy Endings, and a premise that could quite nicely supply jokes for some time to come.
Or it could overstay its welcome, drain the concept dry in under a season and become an ever-living nightmare of tired jokes, exhausted characters and a lame duck premise.
But I am being optimistic remember and so I proclaim this will be the funniest thing to come along in years.
Well, for now at least.
Marry Me premieres on October 14, 2014 on NBC.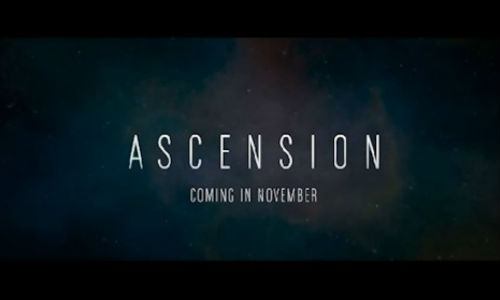 SNAPSHOT
Ascension is inspired by the real-life Project Orion that existed under the administration of President John F. Kennedy. The show sets up an alternate version of reality in which, in 1963, President Kennedy and the U.S. government, fearing the Cold War will become hot and lead to the destruction of the Earth, decided to launch a covert space mission. They sent 600 men, women and children into space on a century-long voyage aboard the Ascension, a massive, self-sustaining starship. Their mission is to populate a new world, known as Proxima, assuring the survival of the human race. Nearly 50 years into the journey (i.e. in the present), as they approach the point of no return, the mysterious murder of a young woman — the first homicide since their departure — causes the ship's crew to question the true nature of their mission. (synopsis via Wikipedia)
I am a huge fan of epic space operas.
Whether it is reading the galaxy-spanning series of Peter F Hamilton or Kevin J. Anderson, or consuming every last episode of TV shows like Battlestar Galactica or Deep Space 9, nothing, apart from a damn good apocalyptic drama or hilarious sitcom (see above) thrills my heart like a saga set in deep, cold reaches of space.
That itch looks like it will be suitably filled by syfy's return to space-based storytelling, Ascension, part of their grand plan to put the sci-fi well and truly back in their name.
It has a grand, epic mission, power politics, and a society essentially frozen in time in the 1960s, opening all sorts of possibilities for exploring the social issues of the time (even though the show is set in the present day).
My only concern is that it could develop into Dynasty in Space, focusing on the soap operatic elements more than the drama inherent in its sweeping premise but hopefully the series producers will aim for the sort of grit and darkness that worked so well for Battlestar Galactica.
Fingers crossed for a super-successful blast off.
Ascension premieres on November 24, 2014 on syfy.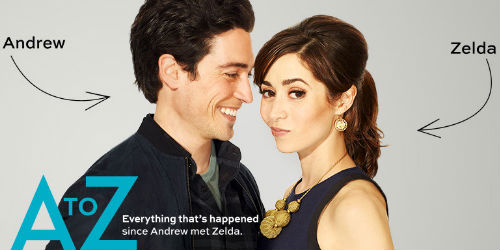 SNAPSHOT
A to Z tells the story of Andrew (Ben Feldman, Mad Men, The Mindy Project) and Zelda (Cristin Milioti, The Wolf of Wall Street, How I Met Your Mother) – a pair that almost wasn't – and all that happened from the day they met.

Andrew Lofland, while a guy's guy, has always been a secret romantic… not above crooning to Celine Dion while driving to work, with dreams of finding "the one." He imagines her to be just like that shimmering beauty he spotted that night in that silver dress at that concert two years ago. Zelda Vasco is a no-nonsense lawyer who has strong feelings about being her own person and prefers the control of online dating. However, when a computer glitch sends her a total mismatch, she's asked to come in for an interview at Wallflower Online Dating, the agency where Andrew works.

Andrew and Zelda meet for the first time and despite their differences, sparks fly. She thinks it's chance. He thinks it's fate. After all, he's convinced she's the shimmering girl in the silver dress. Is it true love forever or just a detour in destiny? (synopsis via NBC)
This sitcom makes it through because it looks sweet.
Yes, that's right, sweet with the soul of a perfectly-confected rom-com, two leads who know their way around a well-made sitcom and share the requisite chemistry, and some lovely, fun, heartfelt banter that is de rigeur for shows of this ilk.
And I think it's the underlying sweetness that will keep me coming back.
After all, while you want laughs aplenty from any sitcom, what you're looking for in a romantically-inclined sitcom is love true love and lots of it between two people you would love to be friends with, have dinner with frequently and whose wedding you'd want to attend (as long as the speeches don't go on too long and there's plenty of wine).
Fingers crossed it sustains this warm and fuzzy romantic vibe beyond the pilot.
A to Z premieres October 2, 2014 on NBC.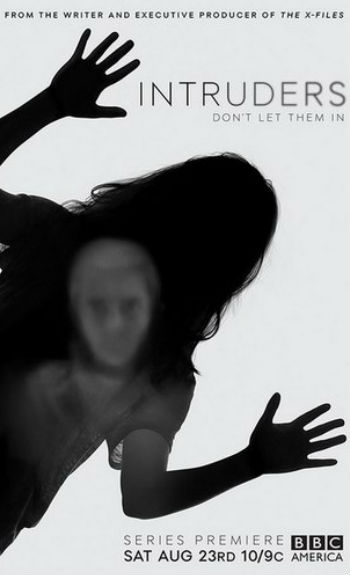 SNAPSHOT
The series is about a secret society devoted to chasing immortality by seeking refuge in the bodies of others.

Jack Whelan (John Simm), a former LAPD cop with a troubled and violent history, finds the quiet idyllic life he has crafted with his wife, Amy (Mira Sorvino) shattered when she goes missing. While Jack is consumed with an investigation, which threatens his very core, a sinister agent named Richard Shepherd (James Frain) is embarking on a series of lethal executions. Meanwhile, a distraught little girl named Madison (Millie Brown) runs away from home into a world of danger.  (synopsis via BBC America/Intruders official site)
Following the amazing water cooler success of Orphan Black – for which Tatiana Maslany should receive all the awards though alas the Emmys haven't recognised that just yet sadly – BBC America are returning to the bleak, freaky dramatic well with Intruders, a show where the dead don't want to stay dead and end up taking over the bodies of living for another on life on this corporeal plain of ours.
And it does look suitably unsettling, disturbing and utterly, completely compelling.
Here's what I had to say about the show when it first came across my radar:
No longer content to stay in their coffins six feet underground, they're resurrecting themselves as flesh-eating zombies who may or may not find wholeness again (The Walking Dead, In the Flesh), vengeful spirit beings with one foot in the physical world (The Fades), returning in haunting corporeal and conscious form (Les Revenents/The Returned) or the case of BBC America's upcoming series, Intruders, taking over the body of another still-living person whose soul is unceremoniously shoved aside into chilling oblivion.

Based on the book The Intruders by Marshall Smith, Intruders, echoing themes from Orphan Black, is all about the ultimate theft of identity as an arrogantly entitled secrecy society decides that they and they alone should live again at the expense of the living, an act of coldblooded thievery that cannot be countenanced, a sentiment echoed by a radio announcer in the trailer who says 'This life, it's ours, not theirs'".
Starring the consistently excellent John Simm (Life on Mars) and Mira Sorvino (Falling Skies), it is a 1001 types of dramatically creepy and a more than promising addition to BBC America's roster of original programming.
Intruders premieres on August 23, 2014 on BBC America.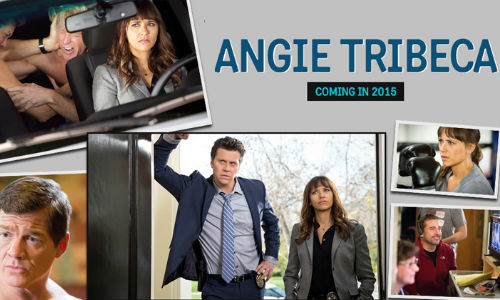 SNAPSHOT
A Police Squad-esque show from creators Steve and Nancy Carell stars Rashida Jones (Parks and Recreation) as the title character, a hard-nosed LAPD detective. In keeping with the Naked Gun-ness of it all, Jones appears to play everything completely straight while insane things happen around her. (synopsis via Zap 2 It)
All I have is this brief trailer  but already an I am completely head over heels in love with the delightful silliness of this show.
As a long time Police Squad/Naked Gun fan, not to mention an aficionado of the likes of Flying High/Airplane, this new show from TBS, home to my beloved Cougar Town, is a sitcom right up my alley.
The fact that it stars Rashida Jones, one of my favourite actors from NBC's criminally-underrated Parks and Recreation, only adds more lustre to its appeal, along with the fact that Steve and Nancy Carell are the creators.
While the trailer does look a little forced at times, like the farce and slapstick is quite as smooth and comically natural as it could be, given the talent in front of and behind the scenes, I have every confidence this could become one of the funniest, silliest, most gloriously over the top shows on TV.
Angie Tribeca premieres in 2015 on TBS.
SNAPSHOT
What if a hospital was your high school, boarding school and summer camp rolled into one? What if it was the place where you fell in love for the first time and made friendships that lasted a lifetime? And what if it was all weirdly hilarious and the most fun you ever had in your entire life? This is the world of Red Band Society. (synopsis via Fox)
To be honest, I pretty much thought I was done with hospital-based dramas after I stopped watching Grey's Anatomy somewhere around season 6 or 7.
While I am fan of this particular TV genre – I watched ER right to the very final episode – I had reached a point where I didn't think it could surprise me any more and with so much other un-formulaic TV beckoning for my clearly finite attention, it made sense to say goodbye to the gurneys and the doctors (yes even the hot doctors).
But there is something about Red Band Society, even though it is clearly aimed at a demographic younger than the ones I currently occupy – ahem – which looks immensely appealing.
For a start it focuses on the children in the paediatric wing of a hospital who bond, kids at the very start of their lives, who are facing, in a lot of cases, some very terminal, very adult challenges.
And there's the presence of Octavia Spencer (The Help, Snowpiercer) who is a dramatic force of nature and one of the finest actors of her generation.
Throw in the charm and good looks Dave Annable (Brothers and Sisters) and possibly of some poignant, emotionally-affecting storylines – though the danger is when Steven Spielberg, whose work I enjoy overall, is involved is that it will get mired in a little too much mawkish sentimentality – and Red Band Society may be the society that lures me back through the hospital doors.
Red Band Society premieres on September 17, 2014.
SELFIE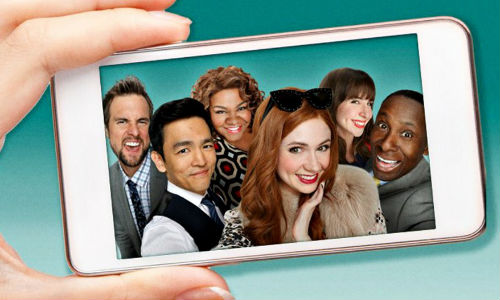 SNAPSHOT
Using a premise similar to Pygmalion and My Fair Lady, the series will follow the life of Eliza Dooley (a modern day version of Eliza Doolittle played by Karen Gillan), a woman obsessed with becoming famous through the use of social media platforms (including the use of Instagram and taking selfies), until she realizes that she needs to actually find people that she can be friends with physically instead of "friend" them online. This prompts Eliza to hire Henry Higenbottam (a modern day version of Henry Higgins played by John Cho), a marketing self-image guru who is left with the task of rebranding Eliza's image in the hopes to show her that there is more to life out there than just playing Candy Crush Saga with an iPhone and connecting with a Facebook page. (synopsis via Wikipedia)
This is not a show I expected to like.
The premise sound flimsy at best, the odds of it surviving a few episodes dubious, and the characters insufferable.
But after watching the trailer, and witnessing the money-can't-buy chemistry between Karen Gillan (Doctor Who) and John Cho (Sleepy Hollow, Star Trek Into Darkness) and the ease with which they traded witty banter and developed a believable rapport, I am sold.
Appealingly, Gillan, manages to invest this, on paper at least, thoroughly unlikeable character with nuance and emotional layering, a credit to her great acting ability, since I didn't think it would be possible to make Eliza even remotely likeable.
Whether it can stretch its premise into a lengthy ongoing series is another matter entirely, but I am willing to give it a try.
#waymorepromisingthanIexpected #programmingthePVRnow
Selfie premieres on September 30, 2014 on ABC.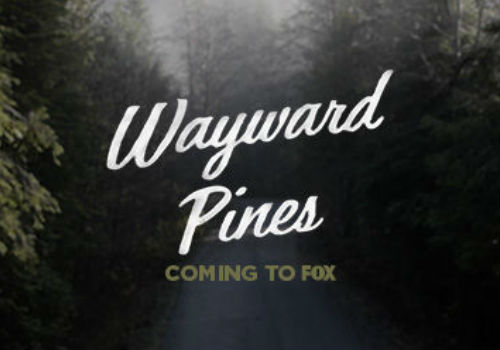 SNAPSHOT
Imagine the perfect American town… beautiful homes, manicured lawns, children playing safely in the streets. Now imagine never being able to leave. You have no communication with the outside world. You think you're going insane. You must be in Wayward Pines.

Based on the best-selling novel Pines by Blake Crouch and brought to life by suspenseful storyteller M. Night Shyamalan (The Sixth Sense, Signs), Wayward Pines is the intense new mind-bending 10-episode event thriller evocative of the classic hit "Twin Peaks."

Secret Service Agent Ethan Burke (Academy Award nominee Matt Dillon, Crash, City of Ghosts) drives to the bucolic town of Wayward Pines, ID, searching for two missing federal agents. One of the best Secret Service agents in the Seattle office, he's the man who knew missing agent Kate Hewson (Carla Gugino, Watchmen, Entourage) better than anyone. They were more than partners; their relationship nearly destroyed Ethan's marriage.

Everything changes when a truck slams into his car…and he wakes up in the Wayward Pines Hospital, with the intense and unpredictable Nurse Pam (Academy Award and Emmy Award winner Melissa Leo, The Fighter, Treme) at his bedside. It soon appears that Pam is more interested in harming than healing. She and Ethan grow into deadly rivals, and her role in the town proves much deeper than anyone realizes. (synopsis via Fox)
First up an admission – I never saw a single episode of Twin Peaks.
Yes I know, it's enough to get me kicked out of the Pop Culture Addicts Club but I have since made up for that omission by watching as many offbeat, quirky shows as I could get my hands on including Northern Exposure, Eureka, and even Men in Trees.
Now, there's a new show to add to the list of shows set in spooky, odd locales, with Wayward Pines set to take us to a town which is redolent with darkness and mystery, all carefully concealed behind a freakish Stepford Wives-like suburban normality.
While the man behind the show M. Night Shyamalan has a patchy record of late when it comes to telling stories of this kind, the trailer suggests he has nailed the tone, weirdness and otherworldliness needed to make such a show work.
In fact, so strong is the trailer that I will be bold enough to suggest this is the long-awaited return to form for the director who showed such promise in The Sixth Sense and Unbreakable.
If it's as good as the promo glimpse indicates, then, along with the towns folk who find leaving Wayward Pines an impossibly deadly task, we may never want to leave once one of the new season's most intriguing shows.
Wayward Pines premieres on Fox in 2015.