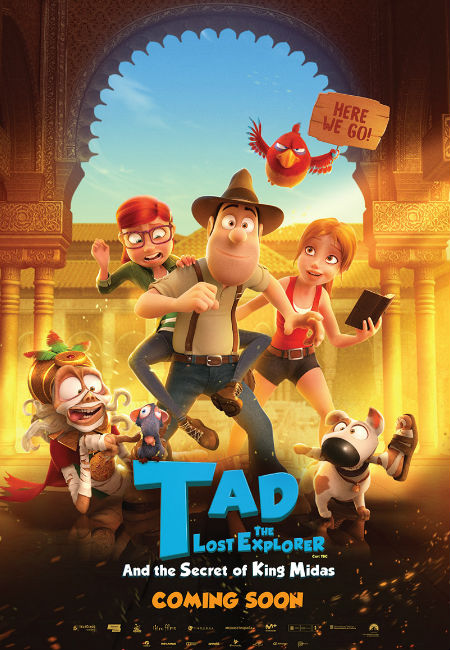 SNAPSHOT
Tad travels to Las Vegas to see his friend Sara's latest discovery: a papyrus that proves the existence of King Midas, who turned everything he touched into gold thanks to the power of a magical necklace. But the happy encounter between Tad and Sara is disrupted when the evil Jack Rackham steals the papyrus and kidnaps Sara to force her to find the necklace, a source of infinite wealth. (synopsis via HeyUGuys)
I have somehow managed to miss the very existence of Tad the Explorer.
According to the good folks at Wikipedia, Tad is a Spanish bricklayer living in Chicago with long held dreams of being a professional archaeologist who, through luck and happenstance, ends up getting to live the dream (albeit as the clumsy doppelganger of Indiana Jones).
Kicking off his adventures in a 2014 short film Tadeo Jones by Enrique Gato and continuing them in its sequel Tadeo Jones and the Basement of Doom, Tad has really come into his own with Tad the Lost Explorer and the Secret of King Midas which looks absolutely, hilariously delightful.
Even though it appears to be packed full of many of the inept characters and sassy oneliners we've come to expect from modern animation features, the film very much has its own personality and you can see why Paramount signed the team behind the character to a two film worldwide distribution agreement.
That explains why this instalment of the hapless but well-meaning Tad's adventures are attracting so much more attention than they once did, and why this will be one of the animated films to look out for whenever it wends itself your way.
Tad the Lost Explorer and the Secret of King Midas opens in UK 25 February 2018 with US and Australian dates to be advised.