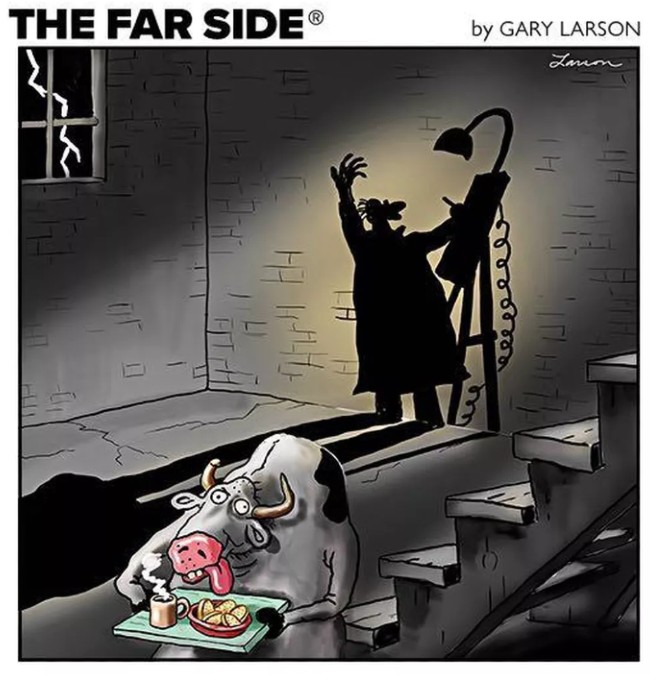 The Far Side is alive!
Granted, it never really died in the hearts of fan everywhere who have kept the quirky faith and a sense of the ridiculous intact during the 25 years since creator Gary Larson release any new material.
Now it's back! Well, kind of … As Larson explains on the all-new The Far Side site, he's very much back on his terms and for a particular reason.
"So a few years ago—finally fed up with my once-loyal but now reliably traitorous pen—I decided to try a digital tablet. I knew nothing about these devices but hoped it would just get me through my annual Christmas card ordeal. I got one, fired it up, and lo and behold, something totally unexpected happened: within moments, I was having fun drawing again. I was stunned at all the tools the thing offered, all the creative potential it contained. I simply had no idea how far these things had evolved. Perhaps fittingly, the first thing I drew was a caveman." (The Far Side)
All that digital experimenting led to a very cool outcome.
"The 'New Stuff' that you'll see here is the result of my journey into the world of digital art. Believe me, this has been a bit of a learning curve for me. I hail from a world of pen and ink, and suddenly I was feeling like I was sitting at the controls of a 747. (True, I don't get out much.) But as overwhelmed as I was, there was still something familiar there—a sense of adventure. That had always been at the core of what I enjoyed most when I was drawing The Far Side, that sense of exploring, reaching for something, taking some risks, sometimes hitting a home run and sometimes coming up with 'Cow tools'. (Let's not get into that.) But as a jazz teacher once said to me about improvisation, "You want to try and take people somewhere where they might not have been before." I think that my approach to cartooning was similar—I'm just not sure if even I knew where I was going. But I was having fun.

"So here goes. I've got my coffee, I've got this cool gizmo, and I've got no deadlines. And—to borrow from Sherlock Holmes—the game is afoot." (The Far Side)
It's great to see Larson back in whatever form suits him, especially, notes Bonnie Burton on C|Net, gives the very unfunny times in which we live.
"If ever there was a time the world needed satirical comic The Far Side, it would be 2020. With the coronavirus pandemic dominating headlines, we could all use cartoonist Gary Larson's oddball humor."
You can check out classic The Far Side cartoons and see what Larson and the cows and cavemen are up to now at the official site.