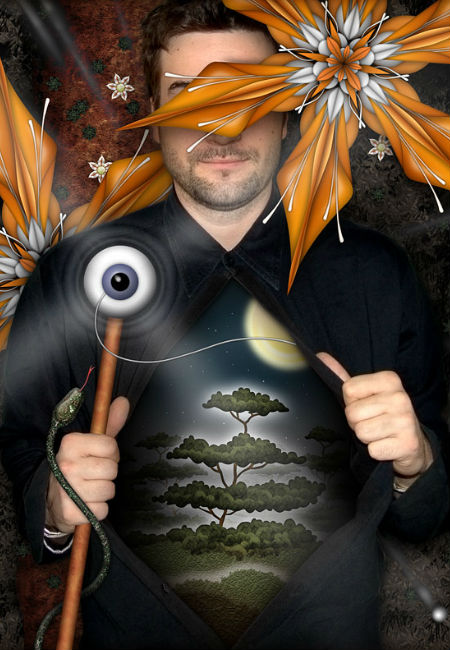 Books have long been a source for movie makers, coming as they (often but not always) do with ready made stories, built-in audiences and brand name recognition (to use an awful marketing term).
It is a process as old as cinema itself beginning with books like L Frank Baum's The Wizard of Oz – no, not the 1939 version; rather the one released in 1910, just a decade after the book itself was released, and continuing throughout the twentieth century with books by authors as diverse as Mark Twain, Jane Austin, Roald Dahl and of course J K Rowling and her zeitgeist-defining Harry Potter books.
And it continues unabated in 2014, despite all the sequels, prequels and somewhere in the middle of the franchise-quels (yeah I know it doesn't really roll off the tongue but let's go with anyway) with a string of movies, all drawing inspiration from the written word.
There are five in particular that have caught my eye, thanks to either the storyline, who's starring in the film adaptation or both, and I present them here for you viewing (and preparatory) reading pleasure.
SERENA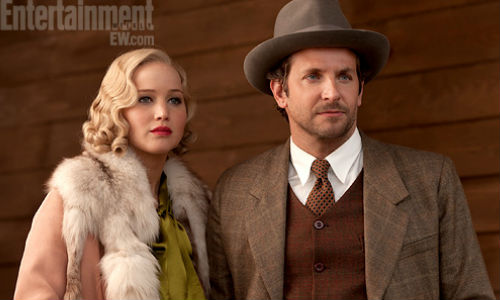 SNAPSHOT
The year is 1929, and newlyweds George and Serena Pemberton travel from Boston to the North Carolina mountains where they plan to create a timber empire. Although George has already lived in the camp long enough to father an illegitimate child, Serena is new to the mountains—but she soon shows herself to be the equal of any man, overseeing crews, hunting rattle-snakes, even saving her husband's life in the wilderness. Together this lord and lady of the woodlands ruthlessly kill or vanquish all who fall out of favor. Yet when Serena learns that she will never bear a child, she sets out to murder the son George fathered without her. Mother and child begin a struggle for their lives, and when Serena suspects George is protecting his illegitimate family, the Pembertons' intense, passionate marriage starts to unravel as the story moves toward its shocking reckoning.  (synopsis via bookbrowse.com)
Serena has been a long time coming.
Filmed in March 2012, starring one of the most dynamic cinematic couplings of the modern era, Jennifer Lawrence and Bradley Cooper (American Hustle, Silver Linings Playbook), it's spent 18 months in post production, almost an eternity is today's fast film-it-and-release-it market.
Naturally of course this has led everyone to speculate that the movie, based on the well-received fourth book by Appalachian-based author and poet Ron Rash, is in huge trouble, a box office flop just waiting to happen but a production insider, familiar with the work style of director Susanne Bier, and quoted by hollywoodreporter begs to differ:
"Actually, it was just the opposite. There were no reshoots or anything like that. It was just a real precision edit because the story is about a woman's descent into madness. And Susanne is a total perfectionist."
They went on to say:
"We didn't want to be the OK version of the Jennifer Lawrence-Bradley Cooper coupling."
Quite how closely the movie cleaves to the book remains to be seen but the bigger-than-life storyline and Susanne Bier's legendarily perfectionistic work ethic, coupled of course with the stellar talents of Lawrence and Cooper bode well for a faithful adaptation of the book.
Serena is slated to open later this year worldwide.
THIS IS WHERE I LEAVE YOU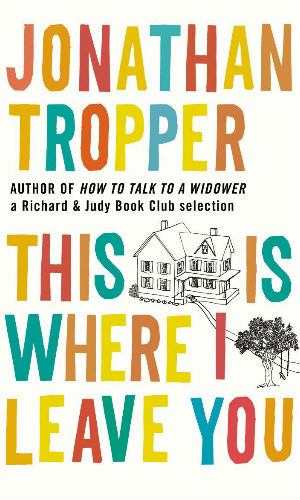 SNAPSHOT
The death of Judd Foxman's father marks the first time that the entire Foxman family—including Judd's mother, brothers, and sister—have been together in years. Conspicuously absent: Judd's wife, Jen, whose fourteen-month affair with Judd's radio-shock-jock boss has recently become painfully public.

Simultaneously mourning the death of his father and the demise of his marriage, Judd joins the rest of the Foxmans as they reluctantly submit to their patriarch's dying request: to spend the seven days following the funeral together. In the same house. Like a family.

As the week quickly spins out of control, longstanding grudges resurface, secrets are revealed, and old passions reawakened. For Judd, it's a weeklong attempt to make sense of the mess his life has become while trying in vain not to get sucked into the regressive battles of his madly dysfunctional family. All of which would be hard enough without the bomb Jen dropped the day Judd's father died: She's pregnant. (synopsis via bookbrowse.com)
Death, and its aftermath, are a fertile ground for rich, family-consuming cinematic drama as August Osage County has already proved recently at the box office.
Emotions are raw, life is on display in all its fragile glory, its mortality unsheathed and hard to miss and everyone is walking a knife edge of raw, soul-bleeding feelings – it's simply a matter of letting the dysfunctionality loose and keeping a watchful eye to make sure it doesn't descend into melodrama.
Based on the book of the same name by Jonathan Tropper (who also wrote the screenplay), which mixes the hilarious and the devastating with utterly engrossing results, This is Where I Leave Come You is given another leg up by a dream cast which includes Jason Bateman and Tina Fey as Judd and Jen respectively, Adam Driver and Rose Byrne as Judd's brother and sister and Jane Fonda as his mother Hillary.
The delicious twist in this particular tale is that the family have to spend seven days following the funeral living as one big happy family sitting shiva according to Jewish custom which, given their blemished history together, is fraught with all manner of emotional minefields.
It promises to be an entertaining movie if only because we will likely be able to identify to some degree or another with each family member's struggle to make  their disparate familial parts beat as a whole.
Of course there is also the fact that the same author who wrote the book also produced the screenplay, and given he had the following to say about his love of combining seemingly non-compatible emotions, it bodes well for a movie that captures the engaging tone of the book on which it's based:
"I actually don't find a difference in writing something funny or something somber. Both require just the right touch. I spend a lot of time fine tuning, focusing on word choice, on tone, and on rhythm. A funny line can become a lot less so with one or two extra beats in it. Likewise, a somber sentence can be undone with excessive verbiage or poor word choice. It's the same balancing act, regardless of what the goal is." (source: penguingroup)
This is Where I Leave You releases 12 September in USA.
GONE GIRL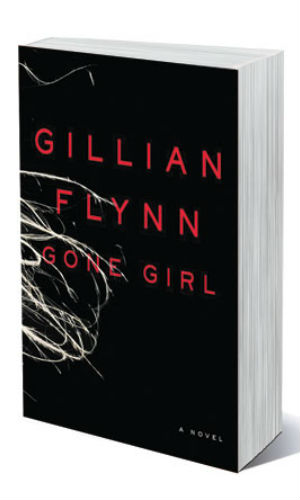 SNAPSHOT
On a warm summer morning in North Carthage, Missouri, it is Nick and Amy's fifth wedding anniversary. Presents are being wrapped and reservations are being made when Nick Dunne's clever and beautiful wife disappears from their rented McMansion on the Mississippi River. Husband-of-the-Year Nick Dunne isn't doing himself any favors with cringe-worthy daydreams about the slope and shape of his wife's head, but hearing from Amy through flashbacks in her diary reveal the perky perfectionist could have put anyone dangerously on edge. 

Under mounting pressure from the police and the media – as well as Amy's fiercely doting parents – the town golden boy parades an endless series of lies, deceits, and inappropriate behavior. Nick is oddly evasive, and he's definitely bitter – but is he really a killer? As the cops close in, every couple in town is soon wondering how well they know the one that they love. With his twin sister Margo at his side, Nick stands by his innocence. Trouble is, if Nick didn't do it, where is that beautiful wife? And what was left in that silvery gift box hidden in the back of her bedroom closet?  (synopsis via bookbrowse.com)
This is one movie where the director is determined not to cleave too closely to the source material.
Stung by the lack of box office success of his adaptation of Stieg Larsson's The Girl With the Dragon Tattoo, which he believed, according to a post on the guardian's website, followed the book's too closely.
So he asked the book's author Gillian Flynn to tinker with the storyline.
What he got however was a completely brand new third act, something which Flynn admits shocked the director initially:
"Ben was so shocked by it. He would say, 'This is a whole new third act! She literally threw that third act out and started from scratch.'"
But the third act stayed and Flynn admitted to enjoying reworking her book into a form suitable for a movie, a sentiment that not all authors share:
"There was something thrilling about taking this piece of work that I'd spent about two years painstakingly putting together, with all its 8m Lego pieces, and take a hammer to it and bash it apart and reassemble it into a movie."
All of which makes this particular literary adaptation all the more intriguing.
Even if you've read the book, and quite a few have, you will something new in the movie, including most interestingly a totally different ending to the often polarising one in the book.
Gone Girl opens in the USA and UK on 3 October 2014.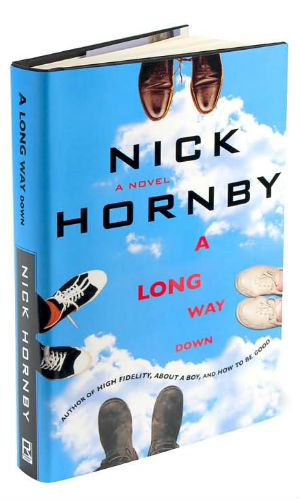 SNAPSHOT
Meet Martin, JJ, Jess, and Maureen. Four people who come together on New Year's Eve: a former TV talk show host, a musician, a teenage girl, and a mother. Three are British, one is American. They encounter one another on the roof of Topper's House, a London destination famous as the last stop for those ready to end their lives.

In four distinct and riveting first-person voices, Nick Hornby tells a story of four individuals confronting the limits of choice, circumstance, and their own mortality. This is a tale of connections made and missed, punishing regrets, and the grace of second chances.

Intense, hilarious, provocative, and moving, A Long Way Down is a novel about suicide that is, surprisingly, full of life. (synopsis via bookbrowse.com)
I am a huge fan of Nick Hornby's work.
A literate but wholly accessible writer, his novels bristle with clever if flawed characters who engage in the most beautifully written conversations, all the while trying their hardest to make sense of the mess that life, or their own actions, have handed them.
And the fact that it's being adapted into a movie starring Pierce Brosnan, Toni Collette, Imogen Poots and Breaking Bad's Aaron Paul, has me enormously excited.
While Hornby didn't write the screenplay in this instance, the trailer gives every indication that his witticisms and observations have survived intact at the hands of James Thorne, with the raw emotions and black humour of the book very much in evidence.
The film is likely also going to benefit from sticking to the book's UK setting, a critical element in any Hornby novel and one you don't tinker with lightly.
Though director Pascal Chaumeil is a relatively untested box office contender in English language cinema, he has a string of French movies to his credit including HeartBreaker (2010) and Un Plan Parfait (2012), all of which to one degree or another share the spirit of A Long Way Down.
The trick of course will be to bring all these promising constituent parts into a pleasing whole but this is one film where I think the resulting completed jigsaw puzzle is going to be very pleasing to watch indeed.
A Long Way Down opens in UK on 21 March 2014; no release date available for Australia or USA is available at this time.
THE HUNDRED FOOT JOURNEY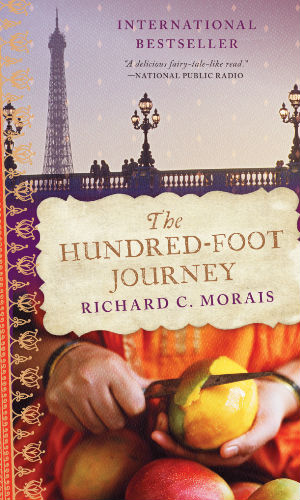 SNAPSHOT
Born above his grandfather's modest restaurant in Mumbai, Hassan first experienced life through intoxicating whiffs of spicy fish curry, trips to the local markets, and gourmet outings with his mother. But when tragedy pushes the family out of India, they console themselves by eating their way around the world, eventually settling in Lumière, a small village in the French Alps.

The boisterous Haji family takes Lumière by storm. They open an inexpensive Indian restaurant opposite an esteemed French relais—that of the famous chef Madame Mallory—and infuse the sleepy town with the spices of India, transforming the lives of its eccentric villagers and infuriating their celebrated neighbor. Only after Madame Mallory wages culinary war with the immigrant family, does she finally agree to mentor young Hassan, leading him to Paris, the launch of his own restaurant, and a slew of new adventures. (synopsis via bookbrowse.com)
With a story as rich and epic as this one, it will come as no surprise that both Steven Spielberg and Oprah Winfrey are part of the production team of The Hundred Foot Journey's film adaptation, which has been directed by Swedish director Lasse Hallström.
It is exactly the sort of gripping, collision-of-two-worlds storyline that would attract both parties, and which has attracted a legion of devoted readers to Richard C. Morais's acclaimed novel.
With actors like Helen Mirren onboard, who plays the testy Madame Mallory, Om Puri who plays the patriarch of the interloping Indian clan, and on the rise star Manish Dayal as Hassan, The Hundred Foot Journey promises to retain all the substance of the book while no doubt imparting a decidedly inspirational " You can do anything!" tone.
The book after all has at its beating heart the unexpectedly deep bond between Madame Mallory and Hassan, and the new and exciting vistas that open up for Hassan as a result, giving his family back even more than they lost everything in their flight from India.
The idea of great falls and ever more redemptive rises are always great fodder for books and movies, and in the hands of the legendary Hallström who has shown an affinity for this sort of material in the past, The Hundred Foot Journey looks like it will be one of the movies to watch this year.
The Hundred Foot Journey opens in USA on 8 August 2014 with UK following on 12 September 2014.