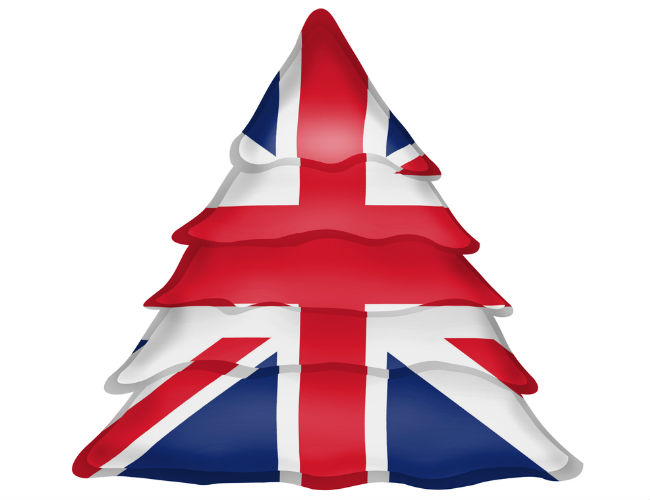 "Hi, my name is Andrew and I am a Christmas tragic."
I utter these words not out of any kind of sense of shame because, well, CHRISTMAS, but because it's best we get it out and into the open. (Although if you've been paying any attention to the blog at all, that tinsel-draped horse has already bolted from the eggnog-drenched stable, I'd say.)
As a consequence of this very happy state of affairs, I tend to watch a lot of festively-themed programming including an awful lot of TV that features Christmas themes laid on heavily and happily, many of which I return to year after year.
Chief among them are "The Perfect Christmas" from the sitcom Miranda, and "The Christmas Lunch Incident" from The Vicar of Dibley, both hilariously brilliant shows whose festive episodes are the pinnacle of seasonal programming, and without which Christmas simply isn't Christmas .
MIRANDA: "The Perfect Christmas"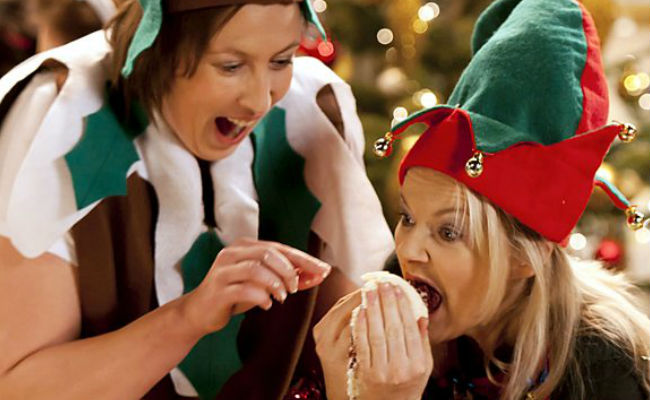 From the moment I watched the first episode of Miranda (it first aired 9 November 2009), starring wonderfully quirky and ferociously talented British comedian Miranda Hart, I knew it was something special. Hearkening back to the classic British sitcoms of my youth like Are You Being Served?, Dad's Army, The Good Life and To the Manor Born, it was clever, hilarious, character-driven and as loopily offbeat as you could want, a pinnacle of comedy that regularly broke the "fourth wall" and was prepared to be gloriously ludicrous if it was funny.
It's undeniable sense of comic perfection finds its zenith in "The Perfect Christmas" where Miranda, whose relationship with her boundary-crossing, over-the-top mother Penny (Patricia Hodge) is always a little contentious, decides she is going to stage her own Christmas Day lunch with her friends – Gary (Tom Ellis), Stevie (Sarah Hadland), Tilly (Sally Phillips) and Clive (James Holmes) – and ignore her mother's over-planned but undeniably good celebrations.
It sounds like a foolproof plan and for a small while it is but then acrimony descends and the decision is made, person by person, to head off to Penny and dad (played by Tom Conti), who has a fear of black ice in one of the episode's recurring jokes, for what turns out to be the perfect Christmas.
In-between all this merriment gone wrong and then very right, Miranda goes to the doctor to see about a rash on her breast – in typical Miranda fashion, she mouths the word "breast" and "rash" and generally behaves in a socially awkward manner thanks to the hunkyness of the doctor before her – attends her mother's ugly sweater contest to predictably humourously chaotic results and does her best to get her online-ordered presents delivered by a courier who seems intent on calling when she's not there or otherwise detained.
There are so many visual and verbal jokes, many of them gorgeously and off the charts silly in this 20-minute episode that you spend this delightful slice of Christmas TV marvelling at the cleverness and madness of it all, wrapped up in the end, not simply by the warmth and bonhomie of Miranda and her family and friends singing "We Wish You a Merry Christmas" as the snows falls outside but by the perfection of the comedy which manages to honour the most wonderful time of the year while making merry with many of its more parody-worthy traditions.
THE VICAR OF DIBLEY: "The Christmas Lunch Incident"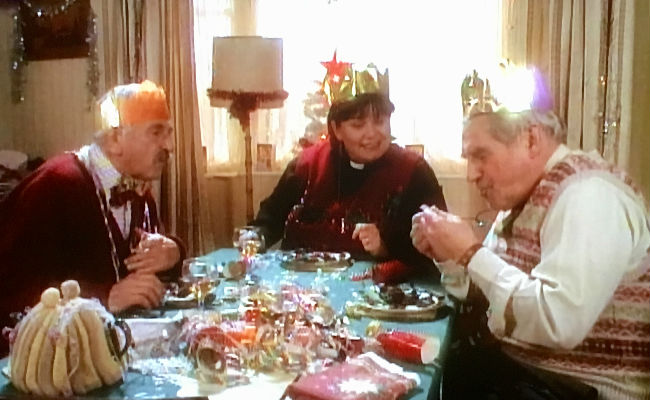 It may not have the word "perfect" in its title but by golly, it should have.
"The Christmas Lunch Incident", first broadcast on 25 December 1996 between seasons 1 and 2 of a show that starred comedian Dawn French as the titular person of the cloth, is about as perfect as a piece of seasonal sitcom telling gets.
Channelling much of the manic energy and also the heartwarming humanity and deep-seated connection that made the sitcom such a joy to watch, "The Christmas Lunch Incident" manages to be both over-the-top hilarious while striking you just-so in the heart.
In short, the vicar, Geraldine Granger is invited to four different parishioner lunches on the one Christmas Day and while she knows this is not a sustainable state of affairs by anyone's estimation – even she, a woman with 30 advent calendars, can only eat so much, an admission that at one point has her Verger Alice (Emma Chambers) laughing at the idea that Geraldine has any limits to her appetite – can't bring herself to disappoint any of them.
They are all, for one reason or another, invested in her coming to their own special Christmas lunch, and so, beginning with festive bachelors for the day, Jim and Frank (Trevor Peacock and John Bluthal) and then moving onto David and son Hugo Horton's home (Gary Waldhorn and James Fleet respectively) then Alice and her family and finally very strange dairy farmer Owen (Roger Lloyd-Pack), she does her best to eat amounts of food so large that you wonder how she doesn't explode, The Meaning of Life-style, at several points.
It's deliciously full-on, stacked full of a bunch of visual treats, not least watching her fit in one last contest-winning Brussels sprout so Hugo can have his long-overdue victory over his father, verbal nonsense (her exchange with Alice's mother is a thing of comic joy) and quite touching too, when after a day where she feels like she's had to much of her parishioners and her food, she finds she needs them after all.
It's massively funny, heartwarming and a reminder that really good comedy, especially of the Christmas kind, can be both hilarious and touching without one coming close to cannibalising the other.