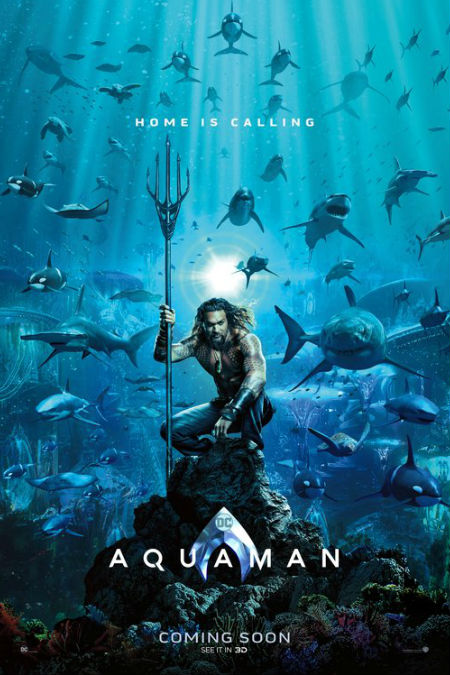 SNAPSHOT
Following the events of Justice League, Arthur Curry, the reluctant ruler of the underwater kingdom of Atlantis, is caught in a battle between surface dwellers that threaten his oceans and his own people, who are ready to lash out and invade the surface. (Wikipedia)
I was never one for superheroes as a kid.
Sure I watched lots of cartoons and TV shows in which they featured such as the 1960s Batman TV series, the '70s Wonder Woman one and Super Friends but a rabid superheroes fan boy I was not.
But one superhero who cut through time and again for me was Aquaman – he was brave, compassionate and strong, and yes, a little bit (or a lot) hunky which no doubt appealed to the heavily pushed-down, closeted gay boy within.
I think what appealed most about him though was his sense of integrity and fairness; all the superheroes have that to some extent, of course but he was always the real deal, the one for whom doing the right thing REALLY mattered and that really spoke to me.
So I'm delighted that Aquaman has finally got his own movie, part of the blighted DC Universe which has faltered and stumbled (bar 2017's excellent Wonder Woman film starring the amazing gal Gadot) while the MCU has soared, and that he is being played by Jason Mamoa, an actor I've long admired for his ability to be macho, tender and funny in equal measure (check him out on Stargate Atlantis) and who finally brings some diversity to the superhero universe. (Check out "How Aquaman hopes to reflect the experiences of viewers of color" for why this is vitally important.)
Director James Wan, who first sprang to prominence with the grisly
Saw
franchise, also commented on another key point of difference this wholly unique superhero at the
recent San Diego Comic Con panel
in the famed Hall H:
"I wanted to create a superhero film that we've never quite seen before. I wanted our film to be more unique. So my movie plays more like a science-fiction fantasy film than a traditional super hero movie."
The trailer is certainly action-oriented and very much the outsider taking the fight to the establishment, a thread that enthusiastically eaves its way through many a superhero film, but there's a different feel to Aquaman, that matches the very unique vibe that came from the Wonder Woman film.
If DC can keep to this unique look and feel, even as it hews understandably close to the superhero tropes that work so well, it may finally garner a unique compelling stake in a genre hitherto ruled over by Marvel alone.
Aquaman opens 21 December USA and 26 December Australia.