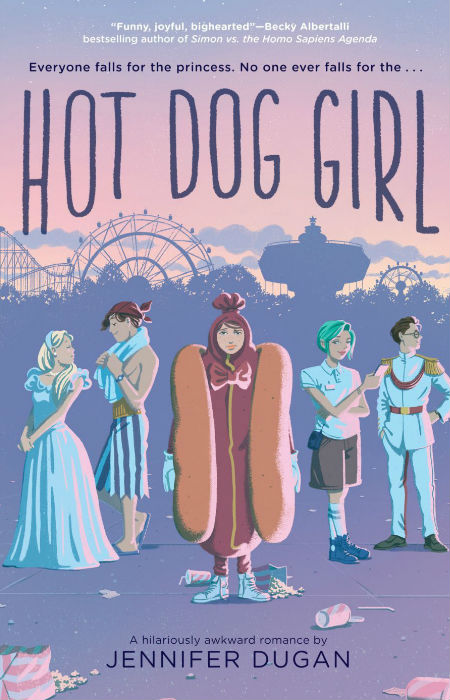 SNAPSHOT
Elouise (Lou) Parker is determined to have the absolute best, most impossibly epic summer of her life. There are just a few things standing in her way:


She's landed a job at Magic Castle Playland . . . as a giant dancing hot dog.


Her crush, the dreamy Diving Pirate Nick, already has a girlfriend, who is literally the Princess of the park. But Lou's never liked anyone, guy or otherwise, this much before, and now she wants a chance at her own happily ever after.


Her best friend, Seeley, the carousel operator, who's always been up for anything, suddenly isn't when it comes to Lou's quest to set her up with the perfect girl or Lou's scheme to get close to Nick.


And it turns out that this will be their last summer at Magic Castle Playland–ever–unless she can find a way to stop it from closing.
Jennifer Dugan's sparkling debut coming-of-age queer romance stars a princess, a pirate, a hot dog, and a carousel operator who find love–and themselves–in unexpected people and unforgettable places. (synopsis via Hypable)
The start of a book is make or break time for me.
No matter how beguiling the jacket blurb might be, if the opening few paragraphs don't grab me in some way – sparkling writing, interesting characters, fun turn of phrase – then I'll often put it back.
It may sound harsh but I read a lot, and life is only so long, and so I can't afford, much as it pains me to bail on books that have the kind of premises I would give my bookcase to explore in full.
I can happily say that I was absolutely hooked on Jennifer Dugan's Hot Dog Girl a few lines in and remained so throughout the first chapter excerpt on Hypable which reveals a protagonist with a singularly charming voice whom I'm very much looking forward to getting to know better.
It definitely worth diving into the excerpt which will cause you, like me, to begin counting down the days until the book hits shelves on 30 April.