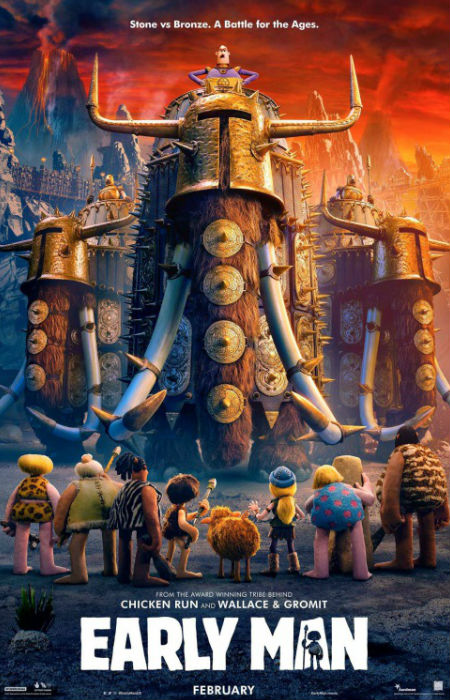 SNAPSHOT
Set at the dawn of time, when dinosaurs and woolly mammoths roamed the earth, Early Man tells the story of how one plucky caveman unites his tribe against a mighty enemy and saves the day! (synopsis via Coming Soon)
I am, and will always be, a fan of stop-motion aniamtion.
It's not simply because I know hard-won this artform is, how much effort goes into each and every second of action on screen; it's also the sheer look of characters coming alive in a way wholly distinctly captivating way that is nothing like drawn animation.
I love drawn animation of course as even a cursory glance at this blog will attest but there's an extra special something that comes with stop-motion, a little extra humanity or quirkiness which has found its apex – the work of Laika (Kubo and the Two Strings, Boxtrolls) aside – in the giddily offbeat, sweet and heartfelt works of Aardman Animations.
The creation of Peter Lord and David Sproxton in 1972, and most famous for the work of Nick Park who joined the team in 1985, Aardman has gifted the world the sublime delights of Wallace and Gromit, Creature Comforts, Chicken Run and Shaun the Sheep, and now the goofy prehistoric silliness of Early Man.
In this movie, which you pretty much know is going to be an idiosyncratic joy from the trailers alone – athough the reviews have been pretty fabulous too; see exhibit A and exhibit B – a plucky cave man named Dug, his sidekick Hognob and his entire tribe of Stone Agers have to square off against Lord Nooth, leader of the Bronze Agers, who wants their land and their labour to enrich himself with mined metals.
It's a classic David vs. Goliath story, one that, quite literally, plays itself out in a way that is imaginative, heartstoppingly tense, and yeah, completely and gorgeously bonkers silly.
How could you not love it?
Underdogs triumphing, and c'mon how could that not happen, is always a joy to watch since it doesn't always happen in real life, and that's why creators like Aardman and films like Early Man are necessary and so good for our soul.
An added treat is having Adam Savage, late of Mythbusters and now Tested, who spent some quality time hanging out at Aardman's studios with senior model maker Jimmy Young, finding out how they make the magic happen and bring the characters we know and love to enthrallingly beguiling life.
It's fascinating and will only added to our rich enjoyment of the film.
Early Man opens in Australia 29 March.
(source: Laughing Squid)