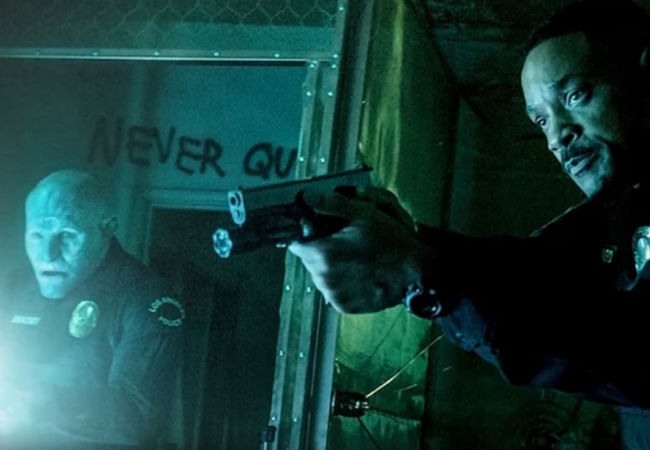 SNAPSHOT
Set in an alternate present-day where humans, orcs, elves and fairies have been coexisting since the beginning of time, this action-thriller directed by David Ayer (Suicide Squad, End of Watch, writer of Training Day) follows two cops from very different backgrounds. Ward, a human (Will Smith), and Jakoby, an orc (Joel Edgerton), embark on a routine night patrol that will alter the future of their world as they know it. Battling both their own personal differences as well as an onslaught of enemies, they must work together to protect a young female elf and a thought-to-be-forgotten relic, which in the wrong hands could destroy everything.

The Netflix original film stars Will Smith, Joel Edgerton, Noomi Rapace, Lucy Fry, Edgar Ramirez, Ike Barinholtz, Enrique Murciano, Jay Hernandez, Andrea Navedo, Veronica Ngo, Alex Meraz, Margaret Cho, Brad William Henke, Dawn Olivieri, and Kenneth Choi. The film is directed by David Ayer and written by Max Landis. David Ayer, Eric Newman, and Bryan Unkeless serve as producers. (synopsis courtesy Coming Soon)
This film looks really intriguing.
Set in an alternate universe where the magic never left and creatures like orcs, elves and fairies live side-by-side with people, Bright looks to be a very clever film indeed.
For one thing, it doesn't pretend that magical creatures equals a magical world; in fact, the recurring thread through the trailer seems to be that intolerance, racism, prejudice and discrimination are thriving every bit as much as they sadly do on our blighted slice of the multiverse.
With a script by Max Landis (Chronicle) and directed by David Ayer (End of Watch, Street Kings), it comes with the real prospect of dissecting these issues, along with presenting us with a thrilling narrative that promises the end of the world if our heroes don't step up.
Intelligent action seems to be the prevailing dynamic here which gives those who love our sci-fi big and loud but also deeply thoughtful, something to really look forward to.
Or maybe we could just wave that wand they're all after and make it start now.
Hmm, perhaps we've missed the moral of the story?
Bright premieres on Netflix on 22 December.