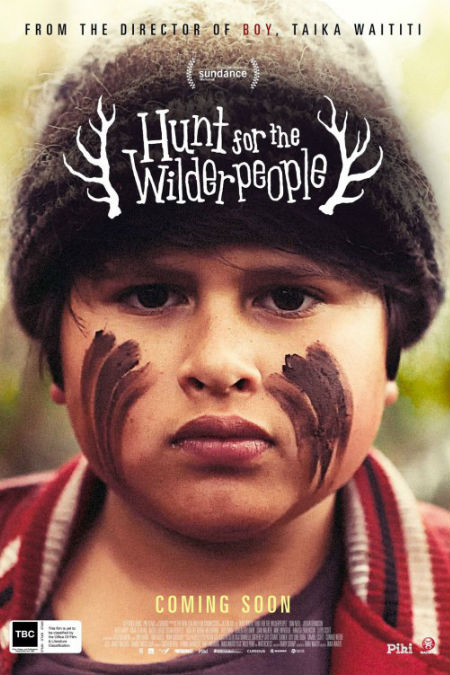 SNAPSHOT
Raised on hip-hop and foster care, defiant city kid Ricky gets a fresh start in the New Zealand countryside. He quickly finds himself at home with his new foster family: the loving Aunt Bella, the cantankerous Uncle Hec, and dog Tupac. When a tragedy strikes that threatens to ship Ricky to another home, both he and Hec go on the run in the bush. As a national manhunt ensues, the newly branded outlaws must face their options: go out in a blaze of glory or overcome their differences and survive as a family. Hunt for the Wilderpeople is written & directed by New Zealand filmmaker Taika Waititi (Eagle vs Shark, Boy and What We Do in the Shadows). (Synopsis via First Showing)
Taika Waititi is an enormously talented writer and director, crafting movies that manage to be simultaneously enormously funny and heartfelt.
And Hunt for the Wilderpeople, which is currently New Zealand's second-highest grossing film ever – behind another Waititi masterwork Boy, looks like it has both elements well and truly in place if this trailer is anything to go by.
At its heart the film, based on a novel by much-loved New Zealand novelist Barry Crump, is all about belonging and what happens when a promising new place to call home is suddenly not quite as cosy and appealing as it once was.
One thing is for sure – Ricky is not going back to the foster system and does everything in his power to escape the slowly-closing noose around his newly-found sense of freedom to feel at home.
Of course you know it's all going to end happily in some fashion with Ricky (Julian Dennison) and Uncle Hec (Sam O'Neill) bonding on their shared pursuit from the law, but there looks to be more than enough quirky performances, clever humour and social commentary wrapped in plain silliness to dilute any sense of this being any kind of formulaic family film.
Hunt for the Wilderpeople opened in New Zealand on 31 March 2016 and is due to open in Australia shortly.