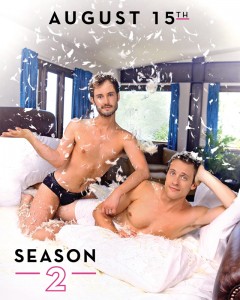 I discovered Husbands quite by chance one day when I saw a post by a pop-culture obsessed friend of mine on Facebook.
Respecting her judgement immensely, and intrigued by the idea of a series focusing on an accidentally married gay couple – as a gay man , it is a subject near and dear to the heart of both myself and my partner – I quickly jumped to the Husbands the series website … and instantly fell in love with a show about two newly dating men who find themselves suddenly married after a drunken night in Las Vegas, that was bitingly funny, socially conscious, and packed full of more insight in each approximately three minute episode than most sitcoms manage in 22 minutes.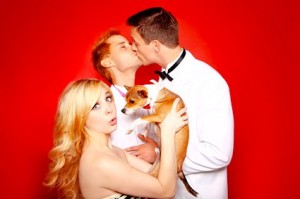 I was instantly hooked. I followed everyone associated with the show on Twitter, read everything I could find about the show, watched the episodes again … and so when co-creators Jane Espenson (Executive Producer; also writer for shows like Once Upon a Time and the latest series of Torchwood) and Brad Bell (Cheeks) started a Kickstarter campaign (crowd funding – check here for a definition) seeking funds to make a second season, I didn't hesitate.
While my contribution may not have matched the one donor who took out the $5000 package – levels of giving ran from $10 through to the aforementioned amount each with their level of rewards such as a DVD of season 1 and an autographed cast photo –  it was crucial, along with many others of the same amount to getting this project of the ground.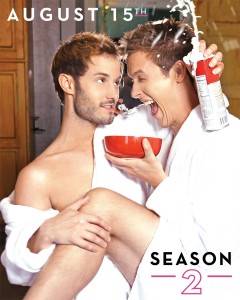 And now it is a reality! My package arrive from Husbands HQ last week with 2 DVDs of season 1 and a glossy autographed photo of the comically- gifted cast – one of my lucky friends will receive the spare copy as a birthday gift thus spreading the Husbands love – and with the promise of an exciting series to come.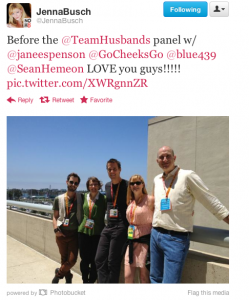 A recent announcement at the just concluded Comic-Con 2012 underlines just how special this next season will be. It seems that pop culture wunderkind and geek god, Joss Whedon (Buffy the Vampire Slayer, Firefly, Avengers) will be appearing in all three eight minute episodes of the show in what he considers his acting debut (a brief cameo on Veronica Mars). It underlines the point that Joss Whedon, a long time friend and collaborator of Jane Espenson, can pretty do as he likes right now such is his cachet in the corridors of the entertainment industry.
Says Whedon:
"Husbands is full of the kind of whip-smart remarks you wish you'd written yourself." (source: The Hollywood Reporter, "Comic-Con 2012: Joss Whedon Starring in Jane Espenson's Series "Husbands")
He joins an illustrious group of guest stars including a woman with similar nerd cred to himself, Felicia Day (The Guild, Eureka) who, it's promised, in a role that will showcase her as never before, Tricia Heifer (Battlestar Galactica), Amber Benson (Supernatural), Dichen Lachman (Being Human), Aasha Davis (Friday Night Lights), Clare Grant (Robot Chicken), Sasha Roiz (Grimm), and Magda Apanowicz (Kyle XY).
(An interview with the cast of "Husbands" released August 2011)