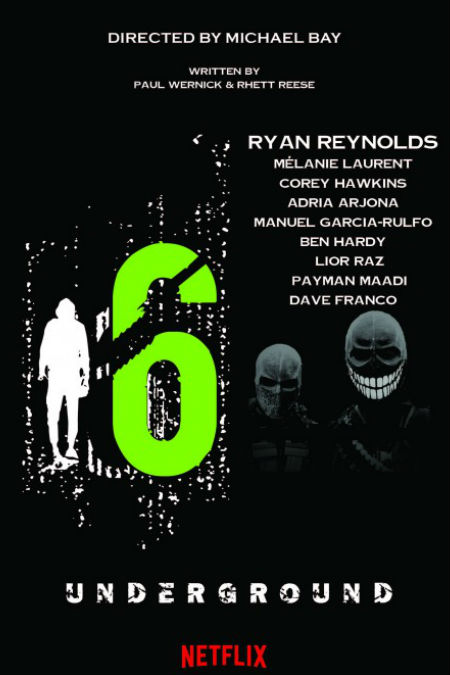 SNAPSHOT
Ryan Reynolds stars as a ghost… as in, someone who faked his own death, scrubbed his record, and now moves about as a phantom operative. What's the best part about being a ghost? "The freedom", Reynolds says in the trailer. The Deadpool actor, re-teaming with Deadpool screenwriters Rhett Reese and Paul Wernick, plays the enigmatic billionaire leader of a group of these ghosts, who've been handpicked from all around the world because they're the best at what they do.

The team consists of a CIA dark operative (Inglorious Basterds' Mélanie Laurent), a former Delta Force sniper (Straight Outta Compton's Corey Hawkins), a doctor accustomed to battle conditions (Good Omens' Adria Arjona), a hitman with a conscience (Widows' Manuel Garcia Rulfo), a parkour expert whose moves defy gravity (X-Men: Apocalypse's Ben Hardy) and a driver whose skills make any car the ultimate escape vehicle (The Disaster Artist's Dave Franco).

Their mission? To fight crime, even though their names will never be known to the pages of history. (synopsis (c) EW)
I have to be honest.
While I love big, dirty, bombastic blockbusters like the Mission: Impossible series in all their extravagently escapist glory, I am not by and large a fan of Michael Bay's take on the concept.
By rights I should be since he has all the right moving (and explosive) pieces, in roughly the right order but where the Bourne or M:I series bring a certain intelligence and emotional insightfulness to their blockbustery instalments, Bay's films feel like they're all brawn and no brain.
And yet, and perhaps it's purely because the wisecracking wonder that is Ryan Reynolds is involved, I am willing to stump up my hard-earned cash to see Underground 6 – technically speaking since it's on Netflix, the outlay of cash has already happened but we shouldn't let that get in the way of good intention – and take the time to watch what bears all the hallmarks of bang, boom, bam Bay-fest.
I may well be disappointed but there's enough in this trailer to suggest that it could be that rare Bay beast – a blockbuster that combines massive spectacle with a beating heart and decent charaterisation.
After all, stranger things have happened.
Underground 6 premieres on Netflix on 13 December.