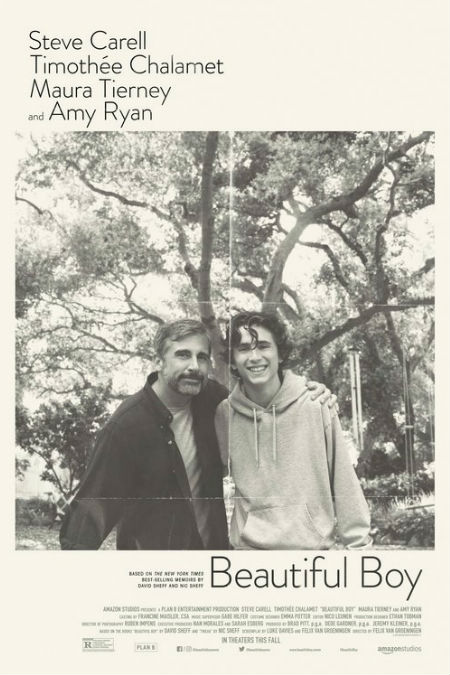 SNAPSHOT
Steve Carell and Amy Ryan are teaming up again for the upcoming addiction drama Beautiful Boy. Based on the critically-acclaimed 2008 memoir "Beautiful Boy: A Father's Journey Through His Son's Addiction" by David Sheff. Carell will play David, and Ryan will play Vicki, David's ex-wife. She was kept away from their son Nic after David was granted primary custody. They have to work together to help combat Nic's methamphetamine addiction. (synopsis via Coming Soon)
The first thing that confronts you in the trailer for Beautiful Boy is how much David loves his son back, and how much, drugs notwithstanding, Nic loves his dad back.
Powerful though love is, and you have to guess it is what eventually drew Nic out of his drug hell and reunited father and son, it can't compete, at least in the short term, with the need to forget, to blot out, to feel "better".
One thing that the real Nic says in the video also posted below is that all the rehab he went to didn't help him work out how to fill the black hole inside and it appears from the pleasingly unadorned way the trailer presents the story that the film, which features what look to be powerhouse performances by Timothée Chalamet, who shone in Call Me By Your Name and Lady Bird, and the always-impressive Steve Carell, is going to be reasonably honest about the gravity and lostness of his addiction.
There is, of course, a happy ending to this particular tale of addiction but that is never guaranteed thanks to the viciousness of the addictive cycle, and Beautiful Boy looks like it will be a dramatically salient lesson on how close you can come to losing it all.
Beautiful Boy opens on 12 October USA and in UK on 18 January 2019.