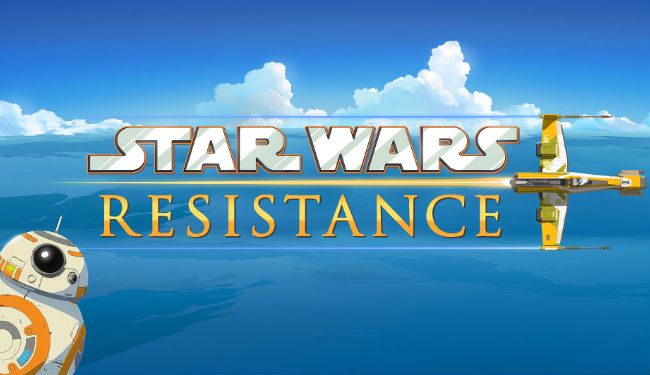 SNAPSHOT
The series, which revolves around the ace fighter pilots of Leia Organa's burgeoning Resistance, follows a young pilot named Kazuda Xiono (voiced by Days of Our Lives' Christopher Sean), recruited by the rebel group to conduct secretive spying missions on the growing reach of the villainous First Order. (synopsis (c) Gizmodo)
Those far-off days when new cinematic and televisual Star Wars instalments were few and far between, and longtime fans like yours truly – who is so old he saw the original Star Wars, when it was just called Star Wars, in a cinema in 1977 – had to wait a while for the next part of the story to be told, now seem like a weird dream, a distant memory.
For ever since Disney got their hands on Lucasfilm, it's been all systems go with an endless parade of mostly very good films – for the record I loved Solo and was meh about The Last Jedi (but not, I must stress, for the reasons advanced by the misogynistic fans who bizarrely want to remark it; I just thought it dull and scattered in its storytelling) – and TV shows which have taken our "long time ago in a galaxy far, far away" to all kinds of wondrously expansive places.
Next up is Star Wars Resistance, an animated series that takes place before The Force Awakens – when does it take place exactly? Why here! – when Poe and BB-8, who've been around the Resistance traps once or twice, greet a new crop of raw recruits eager to do their bit for a free galaxy and fight the pernicious inroads of the First Order. (The series will also happily feature General Leia, voiced by actress Rachel Butera, which warms the heart of old time fans like myself.)
The trailer has a delightfully comic air to it that dovetails nicely with the fact that the protagonist Kazuda soon finds that aspiration and reality aren't always the best of bedfellows and that perhaps there's a lot more to being a spy that he bargained on as the synopsis for the first episode makes all too clear.
"Poe and BB-8 assign newly-appointed spy Kaz to the Colossus, a massive aircraft re-fuelling platform on an outer rim water planet, home to colourful new aliens, droids and creatures. While undercover, Kaz works as a mechanic and lives with Poe's old friend Yeager, a veteran pilot who operates a starship repair shop run by his crew: Tam, Neeku and their old battered astromech droid, Bucket. Kaz soon finds himself in over his head with his new friend BB-8 as he'll have to compete in dangerous sky races, keep his mission a secret from his newfound family, and avoid the danger of the First Order." (Gizmodo)
So derring-do adventures, danger, intrigue and some comic lightness? Sounds like the perfect Star Wars adventure and you can catch it all, if you're in USA, from October, when Star Wars Resistance debuts; international dates TBC.