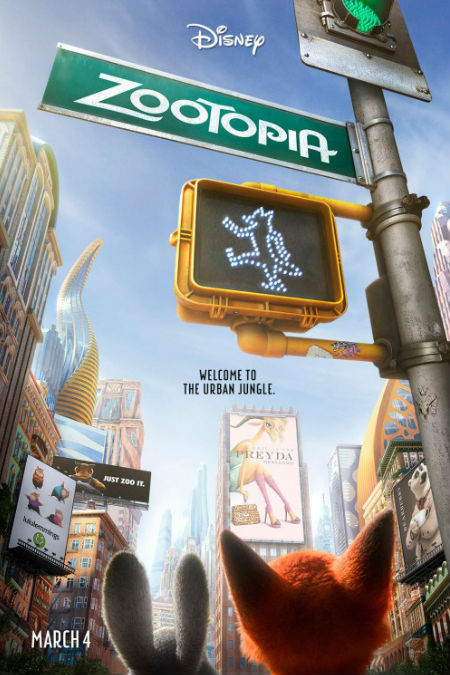 SNAPSHOT
What did it take to bring the world of 'Zootopia' to life? Fusion spent two years with the production team of Disney's smash hit film. In 'Imagining Zootopia,' you will travel with the team to Africa to explore the animals in their natural habitat and find out how the storytellers and animators dealt with the very real themes of prejudice and bias. (official synopsis via Hollywood News)
There is a convincing argument to be made that you should never, ever peek behind the Wizard of Oz's curtain, that the mystery of how a movie came to be should be left to wonderment and "how they do that?" and the gloriousness of moviemaking.
But then some of us can't resist peering behind that curtain can we Toto?
In this 45 minute behind-the-scene documentary, beautifully titled Imagining Zootopia, filmmakers Natalie Osma and Kristofer Rios were given access over 2 years  to chart all the ups and downs of creating this year's biggest animation film, and the result is a fascinating insight into the way a finished product may not bear any resemblance to the first germ of an idea.
As Cartoon Brew explains the film went some dramatic changes including one in particular:
"Rather than attempting to catalogue every aspect of the production, Osma and Rios spend much of the documentary recording the ups and downs of the story's evolution. This is an excellent choice because Zootopia's story changed dramatically over the course of production: the story initially revolved around Nick rather than Judy, and the fragile peace between prey and predators existed only because the latter had to wear shock collars. Imagining Zootopia explores in-depth the evolution from those earlier versions to what appears in the finished film."
Re-focusing on the character of Judy was a master stroke.
It opened Zootopia up to be more than simply a gloriously-realised collection of memorable characters in a fully-formed animal-centric world that beguiled and enchanted from the first glimpse (which it most certainly is), allowing it to talk about prejudice and incipient racism and the lengths people will go to prosecute their own questionable agenda.
That substantial agenda was never overt, carefully woven into the narrative in such a way that you noticed it but it wasn't clumsily overt, enriching the film in immeasurable ways.
Imagining Zootopia, which while not officially a Disney product was made by Fusion, a company half-owned by the legendary movie studio and is the best justification, if you ever needed it, to join Toto behind the curtain and discover the fascinating process that went into the creation of this most remarkable of animated films.