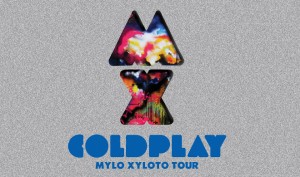 If you're going to do a stadium show, and you're one of the biggest zeitgeist-defining bands in the worlds at the moment, then it makes sense to open it with a bang.
Which is exactly what Coldplay did as the lights across the vast expanse of Allianz Stadium in Sydney went dark and the familiar strains of the Back to the Future theme washed across a crowd of 50,000 wildly-excited fans.
It was an entirely suitable entrance for a band that has grown from playing the Hordern Pavilion in 2003 when they toured their Rush of Blood to the Head album to easily filling a major sporting stadium just nine years later, all the while remaining connected to their loyal listeners in a way that many bands fail to achieve with just a tenth of their following.
And that last point is the key I think to their enduring popularity and the reason why this show connected with everyone there in the way it did.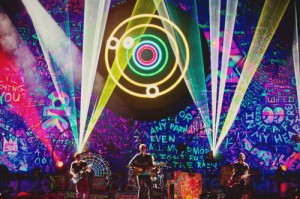 Yes they dazzled with spectacle, with an expansive stage backdropped by five giant circular screens that gave those off in the far off back rows a towering view of Chris, Johnny, Guy and Will enthusiastically putting on their 115th or so show of the Mylo Xyloto tour.
That is, of course, when they weren't being scribbled on by luminous neon graffiti, showered by extravagant explosions of confetti or displaying vividly colourful '80s-inspired swirls that pulsed in time to the laser lights that cut through the darkness with surgical precision, lighting up the surging crowds beneath them.
And true the multi-coloured wristbands that each audience member received on their way in, that lit up in time with pre-programmed instructions from the band – although it felt as if by magic at times even to this concert-hardened soul – were an impressive touch especially when they all came alive en masse, lighting up the entire stadium in glorious pinpricks of glowing, fan-unifying colour.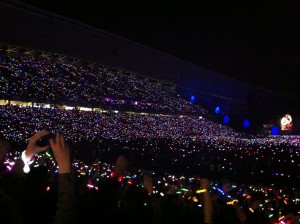 But at the heart of all this grand cartoon-coloured vision was a band who continue to remember that they're not just there to engage in some entertainment-oriented "shock and awe" but also to engage and connect.
And in the midst of a super-sized sporting arena, connect they did.
Whether they were playing some of their more upbeat numbers like "Princess of China" – with Rihanna piped in with a perfectly-synced video appearance – and "Charlie Brown" from Mylo Xyloto or "Viva la Vida" or the goose bump inducing hypnotic beauty of crwod favourite "Clocks".
Or taking it down a notch or two with some of the melodic emotional-resonant ballads they are known for like "God Put a Smile on Your Face" or a rather sassy version of "Yellow", there was never a moment where they failed to demonstrate to their fans that they mattered more than all the admittedly beautiful visual effects did.
They partly achieved this at one point by having the entire band decamp to a small stage about two thirds of the way down the arena, coming on one-by-one to an acoustic reprise of "Us Against the World" followed by the bouncy full speed ahead zest of "Speed of Sound", a neat trick that brought them physically right into the heart of their fandom.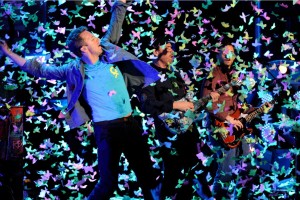 But mostly it came about through the obvious pleasure each band member took in bringing their songs to life for fans who hadn't yet seen the long running tour come to glorious technicolour life, especially of course energetic lead singer Chris Martin who moved with all the speed and giddy enjoyment of a child racing down the stairs to open presents on Christmas Day, telling fans at one point to "make some mother-f**king Sydney noise!".
You could hardly blame him, and the rest of the band for that matter, for feeling tired and jaded but even if they were feeling it, and they gave no indication they were, all anyone in the enthusiastic audience saw were four men passionately enjoying themselves over two song-packed hours.
And naturally, if you are one of the biggest bands in the world, commencing your concert with appropriately bombastic fervour, then you would want to exit in much the same way, which is exactly what the band did to a vivacious fountain of fireworks (it was a Sydney concert after all) and an evocative rendition of "Every Teardrop is a Waterfall".
Coldplay confirmed in every way possible that they are one of the great bands of our day in a show that didn't forget that the shiny, sparkly baubles are only worth something if you remember the reason you came up with them in the first place – the fans.
* The full set list for the 17 November 2012 show is available here.