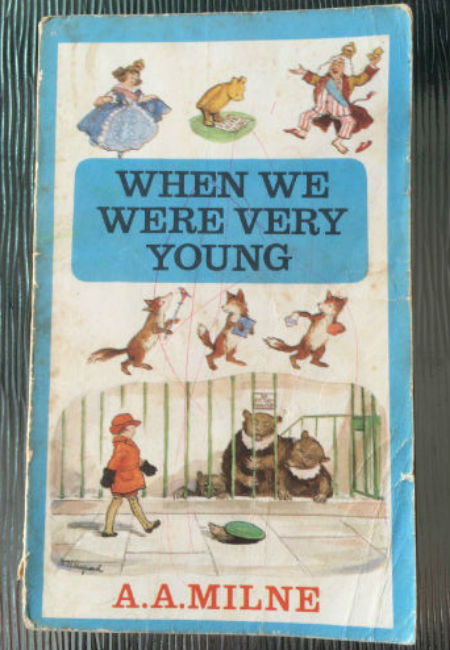 Winnie the Pooh, and by obvious extension the man who brought his remarkable adventures to life in The Hundred Acre Wood, Alan Alexander Milne or A. A. Milne, were an integral part of my childhood.
For those of us who delight in reading still about the "Bear of Very Little Brain", and his dear friends Piglet, Tigger, Owl, Eeyore, Rabbit and others, it seems like he has been around forever, a constant figure in the glowing firmament of British children's literature, and of course, in our hearts.
But in fact he only appeared just over 90 years ago, as Maria Popova, from the exquisitely interesting site Brain Pickings points out:
"On February 13, 1924, Punch magazine published a short poem titled "Teddy Bear" by Alan Alexander Milne, one of the magazine's editors and a frequent contributor. The poem, inspired by the stuffed teddy bear so dearly beloved by Milne's four-year-old son Christopher Robin, was included in Milne's collection of children's verses, When We Were Very Young, illustrated by Punch staff cartoonist E. H. Shepard and published later that year. But the bear's very first appearance in Punch was the birth of Winnie-the-Pooh, which Milne released two years later and which went on to become one of the most timeless children's books ever written."
Set against the vast span of time, and all the many "smackerels of honey" that would have been consumed through those many years, it's not that long at all really, a reminder of just great an impact Milne's few books have had on the world.
Rarer still though is A. A. Milne, or any early twentieth century author reading from their books, but thanks to recordings made by Dominion Grammophone Company in 1929 we have the pleasure of listening to this most clever and sweetly sentimental of men reading aloud from the third chapter of When We Were Very Young, "In Which Pooh and Piglet Go Hunting and Nearly Catch a Woozle," an experience Brain Pickings notes "made all the more delightful by his enchantingly melodic voice".
And who knows, as you're carried away hearing A. A. Milne read about his marvellous creations you may find, like Piglet himself, that even though you have "a Very Small Heart, it [can] hold a rather large amount of Gratitude" for the genius of this wonderful of authors …