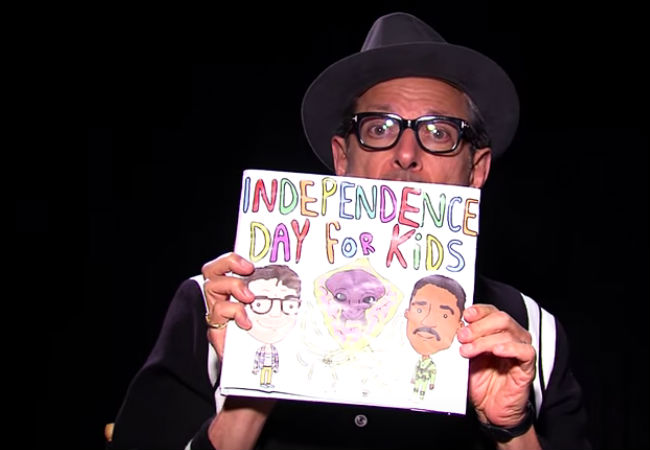 With Independence Day: Resurgence currently in theatres – it is by the way not the extraterrestrial mess some critics would have you believe – it's a timely thing indeed that Jeff Goldblum and Mashable have joined forces for the ultimate in bedtime reading sessions for kids.
Yes sirree, big and small kids alike, and those all too keen to open the door to just anyone – hey it could be aliens knocking and you just know they won't leave the place as they found it all right? – you can now relive all the action, adventure and sage lessons of Roland Emmerich's cheesy 1996 movie classic Independence Day in picture form!
It's a galactic-sized cautionary tale on not talking to strangers, especially ones who might blow up august buildings of importance like the White House, disrupt a major national holiday and even threaten the life of the dog you love (as always in alien invasion films, stick with the dog and you'll be just fine).
And it's read with storytelling finesse that you'll get caught on the story, especially, ahem, if you weren't alive when the first film came out – yes apparently that is actually a thing – all the while drifting off to the Land of Nod where plucky citizens are even now uploading viruses to down invading alien spaceships.
You know, just like in real life …
(source: Mashable)