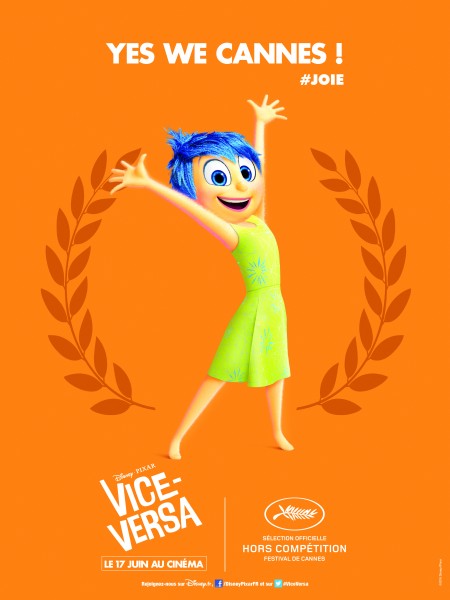 SNAPSHOT
From the tepuis of South America to a monster-filled metropolis, Academy Award®-winning director Pete Docter has taken audiences to unique and imaginative places. In 2015, he will take us to the most extraordinary location of all – inside the mind of an 11-year-old named Riley.

Growing up can be a bumpy road, and it's no exception for Riley, who is uprooted from her Midwest life when her father starts a new job in San Francisco. Like all of us, Riley is guided by her emotions – Joy (Amy Poehler), Fear (Bill Hader), Anger (Lewis Black), Disgust (Mindy Kaling) and Sadness (Phyllis Smith). The emotions live in Headquarters, the control center inside Riley's mind, where they help advise her through everyday life. As Riley and her emotions struggle to adjust to a new life in San Francisco, turmoil ensues in Headquarters. Although Joy, Riley's main and most important emotion, tries to keep things positive, the emotions conflict on how best to navigate a new city, house and school. (official synopsis via Collider)
C'est officiel!
Inside Out, Pixar's first animated feature in two years – the last one to hit screens was Monsters University in  June 2013 – and its first original, non-sequel film since 2012's Brave, is going to that most venerable, not to mention glamourous of film festivals, Cannes, which will be held this year from May 13 to 24.
It's a big deal, a huge deal in fact, and to celebrate this most wonderful development, the good folks at Pixar have released a special clip which shows Joy (Amy Poehler) getting this ready for Riley's first day of school in her new home of San Francisco.
Not only that but they have released a slew of posters, with appropriately enough, taglines in French (which Collider have very helpfully translated; merci beaucoup!) to celebrate their impending walk down the Promenade de la Croisette in Cannes, an event which will include all five emotions, or their actor voice equivalents anyway, from the film known in France as Vice Versa.
It's exciting news and you can understand why Pete Docter, who won an Academy Award for the luminously-gorgeous, utterly-poignant Up and will appear at Cannes, according to Coming Soon, "with producer Jonas Rivera (Up), and co-director Ronnie Del Carmen (Up)" is incredibly thrilled:
"We are overjoyed at being included in this year's official selection at Cannes," said Docter. "With 'Inside Out,' we spent years imagining – and then building – never-before-seen settings and characters within the mind. It was an incredible, fun and exciting challenge and now we can't wait to share it with the world."
The posters and the clip as as wonderful, colourful and entertaining as you'd expect, encouraging anticipation that this will be one of the best films of 2015, animated or otherwise.
Inside Out officially opens in USA on 19 June in USA (premieres at Seattle International Film Festival on 6 June 2015) and Australia on 25 June (premieres at Sydney Film Festival 9 June 2015).