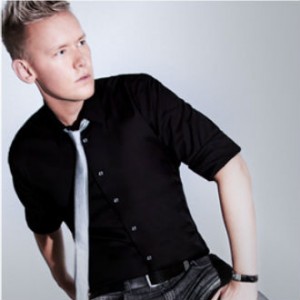 It's a brave new digital world out there, and while traditional record companies are quaking in their boots, fearful and uncertain of what the future holds, quite a number of brave, independent artists are seizing the moment and crafting astonishingly successful careers without the vast apparatus of old behind them.
One of these artists is Jonas Oakland, a Swedish artist who writes and records and promotes his own material without the benefit of an A & R rep, a publicist, a marketing executive and the might of a global record label. It's just him, a whole heap of talent and a lot of determination, and it's paying off in spades for the engaging young Swede.
While holding down a day job, he has managed to release a string of catchy electro dance pop songs starting with "Beat of My Heart" in 2008, that have captured him the attention of major pop sites around the world and a loyal highly supportive following. His latest song "Who's That Boy" has been selected for A-Rotation by the influential Swedish radio station, Cityradion, a major boost as he prepares for a four song EP to be released later this year.
I caught up with him recently and we discussed (via email) what propelled him into a music career, what influences him to keep going and why this is the best of all possible times for an emerging artist to be making his mark.
If you're anything like many creative types, you would have made the music regardless of any acclaim because you need to make it like other people need to breathe. When did you first start making music and what were your musical influences growing up? Which artists were the ones who gave you that "light bulb moment" where you thought "I can do this too?"
Yes you're right. I love working with music, regardless of success, although a break through would mean that I could work with music full time. But being an independet artist gives me the freedom to do the kind of music I personallyprefer doing, there is no one telling me what to do in order to sell more records for instance.
I have as long as I can remember written down lyrics and song ideas but I started recording my music about 5-6 years ago. At first in my livingroom using my laptop, a guitar and a synthsizer, but I soon realized I wanted to take it one step further. So I got in touch with a producer and we recorded a couple of demos, which didn't get any attention at all when I released them online. But then in 2008 I wrote "Beat of My Heart", had it produced and sent it to the outtakes of the Swedish "Melodifestivalen". It didn't make the cut unfortunately, but when I released it on my website, it took about 24 hours before blogs had picked it up and started talkning about it. And by then I hadn't made any promotion at all for the song. That was a such an amazing moment and so rewarding. The feedback I get about my music is worth all thehard work I put into it, and that keeps me going still today.
When I was a kid my musical influences were brought in by my older brother. He bought LPs with Kiss, Twisted Sister, etc. My very own first CD was Kylie Minogue's Rhythm of Love and that maybe points out my influences after that. I grew up with listening to Ace of Base, Roxette and lots of eurodance as well. And I have also been fond of Madonna through out the years…
Has your music changed significantly from those early efforts or is what we're hearing now a natural step forward from what were you creating way back when?
I have always loved pop and dance music. My first songs were more towards classic pop, but with a hint of dance and for each song I have made I have moved more and more towards dance. When I created each song I was doing what I wanted at that time. Moving towards dance has been a natual development for me.
At any point were you tempted to record what you thought other people might want to hear – which is understandable if you want to find a receptive audience – or did you stay true to your artistic vision and hope that everyone would love the music you loved making?
As I mentioned in a previous question – being an independent artist you get to decide all by yourself. And yes, I have always written and recorded songs that I personally love and want to do. But then again, I have written loads of songs that are ballads and I'm not sure if they ever will be produced. When I go to the recording studio, I have to decide on which songs to record and for each song I release, I create expectations about what will come next. I think I would shock my fans if my next single would be a ballad instead of a dance track. But you never know…
Your music has some very catchy 80s influences, and yet you have managed to not be defined by those influences but take them in and create a unique dance floor sound that is all your's. How did you balance the influences you had with your own vision of the sound you wanted to create and how did you avoid being swamped by them (which is something that not every artist who brings in retro influences manages successfully)?
This is where I must give credit to my talented producers. The process of recording a song begins with me pitching my song and ideas to the producers. I bring some songs of reference that I feel inspired by (often a mix of songs from the 80s, 90s, 00s & 10s). And then my producers come with their influences spanning from rock to dance and we spend about a day playing around in the studio, trying to find a sound that works well with the song and what I want to convey. It's a very organic process and you never know where it will lead, but when you find the sound you like, you immediately know it's right.
When did you think that the music you loved to create might attract the attention of an audience outside of supportive family and friends? 
I have never had anyone who has pushed me to create music, it's something I have kept for myself for a long time, until I felt I wanted to take it one step further. When I first started recording and releasing my music, I didn't know what kind of reaction to expect, but the feedback I have gotten for my songs is better than I ever could have imagined. It is still very nervous before any new release, even if I have friends assuring me that the song is "the best one you have released yet".
When you released your first single "Beat of my Heart" in 2008, was the intention to land a recording deal as soon as you could or did you just want to see what happened and take it from there? In other words, was there a grand master plan of any kind?
When I recorded BOMH I sent it to the outtakes of the Swedish "Melodifestivalen" and hoped it would make the cut which it unfortunately didn't. I haven't to this point approached any record label, even though I think that having a label behind me would make it easier to get my music out to the audience.
But I think that with the music scene today, you need to make it first by yourself and prove that there is an audience for your music before a label is willing to take you on. And I guess that's what I'm doing right now – proving that my music does have an audience. It's hard work doing it yourself, when you have finished working in the studio, the work with distributing, promoting, doing gigs, handing over your cd to djs etc, starts. But I love doing it and I love spending time in front of the computer, tweeting, blogging and talking to all the music lovers out there.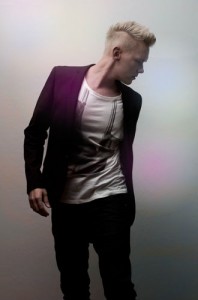 Sites like London-based Scandipop and Swedish site Poplight were the first to champion your music. How important was their support, and later that of sites like Fizzypop, in motivating you to keep pursuing your musical dreams?
They have motivated me a lot. Their support means the world to me and has pointed me in the right direction, showing me that what I'm doing is appreciated. Some of the bloggers that have been there from the start have also become people I frequently talk with online about music and other stuff.
Being an independent recording artist comes with a whole host of unique challenges that an artist signed to a record label doesn't have to face. Is it frustrating fitting in recording sessions, interviews around a day job, and finding the money to pay for it all? Or do you accept that that's the way it is for now and just go with it? 
No, it's not frustrating at all although it is very time consuming, and that's the tough part. But since I love doing music and I love working with promoting it, it just comes naturally. But you're right, I do put my own money into it, hoping that it one day will pay off, and that I can live off doing music.
One good thing must be collaborating with the producers you use? How much of an influence have they been and how valuable have you found it to have creative input from someone other than yourself?
They are very valuable for me and they come with valuable input for each production. It's good to have someone to test your ideas on and having other creative people around you that come with their ideas and incorporate them in my music. In the end we create something totally different, something that no one of us could have created each one by ourself. I have worked with the same team since the start and there has been a natural development between us through out the years. We get to know each other better and it reflects on the production – it gets closer and closer to a sound that can be defined as "Jonas Oakland".
As a writer I hear a lot about people encouraging authors to build an "author platform". Given you want to get your name out there to as many people as possible, you look to be doing much the same thing from a musician's perspective? How important has YouTube, Twitter, Facebook etc been in raising your profile and finding fans?
Social media, like Twitter, Facebook, my wordpress blog, etc, have been crucial for me in order to get my music out there. There are so many possibilities today to promote what you do online, you just need to know what you are aiming at and have the imagination to make use of all the possibilities. But it's important for me to stay focused on my music and to be straight forward in my communication, instead of spending a lot of time and money on major "promotion stunts". I hope that my music speaks for itself, once people get to listen to it.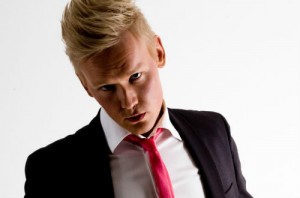 What sort of advice would you give to other aspiring artists in terms of using social media to make their presence felt? And would you have done anything differently?
I think that the best advice to give is to be honest and stay true to yourself and to your audience. I think that the people you interact with notice if you put on an act. And don't be afraid of asking for help, the people who like your music want you to succeed and are willing to help you out with promoting your music.
You have to decide how much you are willing to reveal of your personal life, since the interaction can get very personal at times.
You learn by doing, and I can't say that there is anything I would have done differently. All in all, it is an excellent platform since you can do it basically for free and you don't need to spend your money on expensive advertising.
I have noticed that many Scandinavian artists have a unique approach to pop music. They manage to create music that is wholly different from anything else in the world even when they are affected by the same influences as everybody else. Do think that's the case?
I actually don't have a good answer to that. I think that ABBA has influenced Swedish music a lot, even if musicians in general maybe don't want to admit that. Swedish music has a lot of melody and a simplicity to it, that makes it very easy to approach, and I think that's a big part of the success of Swedish music.
So what's next for you now that "Who's That Boy?", which is excellent by the way has been so favourably received? What exciting plans do you have and what can we expect from you in terms of new songs, an album, and a move onto a wider world stage?
Next up is a video for "Who's that boy". Later in 2012 I will release a four track EP containing "Where were you last night" and "Who's that boy" as well as two new songs. Each one of the four songs are different from each other, but are all created for the dancefloor. That's why the EP is called "What happens on the dancefloor (stays on the dancefloor)", named after one of the songs.
For each single release I have widened my audience, and I hope this will be the case also with the two remaining songs. The fact is that most of the attention I get for my music, and most of the singles sold, are outside of Sweden. Recently for instance I had a gig in Denmark, so my audience is very much international. And not to mention the attention I have recently received in Australia.
But the Swedes are waking up now as well, "Who's That Boy" was recently put on A-rotation on a Swedish radio channel, so I hope it will catch on over here!
Huge thanks to Jonas for taking the time to answer all those questions! I know you will be hearing a lot more from this talented guy whose music is coming soon to a dance floor near you, if it hasn't arrived already!
* You can get all of Jonas Oakland's songs, as well as the awesome Beat of My Heart remixes EP at iTunes worldwide.