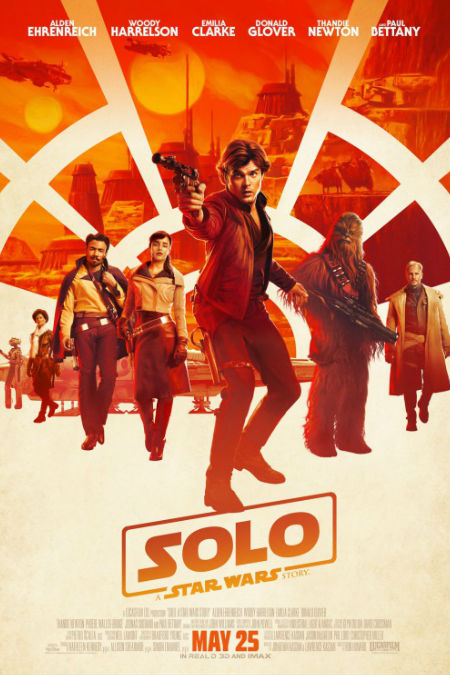 SNAPSHOT
Board the Millennium Falcon and journey to a galaxy far, far away in "Solo: A Star Wars Story," an all-new adventure with the most beloved scoundrel in the galaxy. Through a series of daring escapades deep within a dark and dangerous criminal underworld, Han Solo meets his mighty future copilot Chewbacca and encounters the notorious gambler Lando Calrissian, in a journey that will set the course of one of the Star Wars saga's most unlikely heroes. (Coming Soon)
Making movies isn't easy.
To be fair, no creative endeavour really is, but it always seem to be movies that suffer from epically delayed production schedules, on-set shenanigans and actor issues of the kind that would make Cecil B. DeMille and Orson Welles in unison greeted with melodramatically-large envy.
Such was the case with Solo: A Star Wars Story, one of the in-between standalone films that aims to fill in the blanks between the trilogy episodes, providing insight on significant stories that have been oft-referred to in the Star Wars films but never fully explored.
Swapping directors midstream from The LEGO Movie directors Phil Lord and Chris Miller to Ron Howard after differences in creative vision – one of those oblique phrases that says so little and yet so much – Solo looked set to be one of those rare films that promised so much and yielded so little.
And yet … and yet … damn if this second trailer for the film makes you wonder if this won't be one of those amazing films that defies the litany of woes it went through in production and emerges to be a thing of epic, fan-inspiring wonderment.
Certainly there's a lot of very cool stuff as Gizmodo forensically examines, and Digital Spy glories in with fannish delight, and frankly, the trailer suggests this will be as much fun as Danny Glover, who plays a young Lando Calrissian, makes out, a welcome sign for those of us who have been watching the films since the very beginning (Yes, I am that old) and want every instalment to be brilliant.
Solo: A Star Wars Story opens in Australia and UK 24 May and USA 25 May.