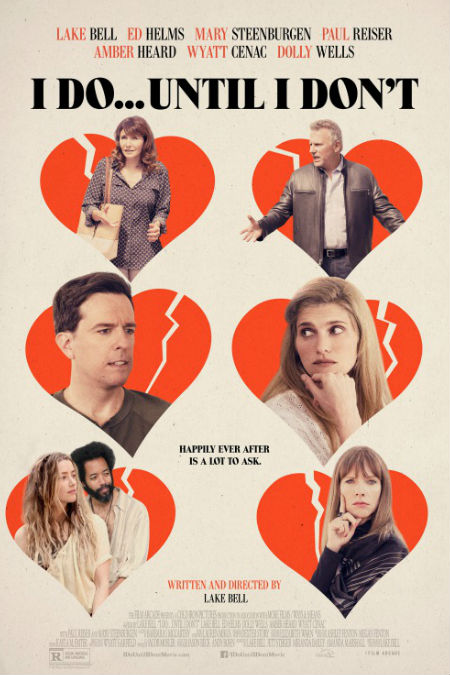 SNAPSHOT
In Vero Beach, Florida, a trio of couples at various points in their relationships become the subjects of a film about marriage being an antiquated idea that needs a reboot: Why not turn marriage into a seven-year deal with an option to renew?

For Alice and Noah (Lake Bell, Ed Helms), more than a hint of boredom is setting in as they approach their first decade together and the prospect of parenthood. Meanwhile, Alice's funky sister Fanny (Amber Heard) is sure her "open marriage" to Zander (Wyatt Cenac) is the key to their free-spirited happiness. And then there's Cybil and Harvey (Mary Steenburgen, Paul Reiser), a pair of empty-nesters wondering what the next stage will be.

As the manipulative filmmaker (Dolly Wells) attempts to show how marriage is outmoded, the couples she interviews discover the "do's" and "don't's" in their own relationships. (synopsis via Coming Soon)
If you're an incurable romantic like me, you like to think that love will last forever.
Sure there are lots of people getting divorced or breaking up, and it is to be fair, the staple for much of the drama we consume in many forms, but even so, there are enough starry-eyed moments and BFFs in the world, that I can believe love is a lifelong deal.
I Do … Until I Don't clearly doesn't share that sentiment, delivering up three couples whose eternal Valentine's Day, the one we all start out on at the beginning of a romantic coupling, is starting to look like a particularly bad Christmas Day with the rank relatives you hate from out of town.
Though clearly aimed at the funny bone, this is observational humour with bite, hilarity with an edge that asks what is, rose-colour romance aside, a fair enough question – does love have what it takes to go the distance? – but the chief charm of this film will be seeing whether the core characters come out the other side agreeing with the romantics or embracing the cynics, downing a bourbon and moving into a studio apartment fit for one.
Again, I choose to believe it does – I'm in a longterm relationship with an amazing man so this is not idle, abstract posturing on my part – but it will fun seeing where this film lands on the issue and whether it will be candlelit dinners or TV dinners in the microwave when the romantic or otherwise dust has settled.
I Do … Until I Don't opens 1 September 2017 in USA.