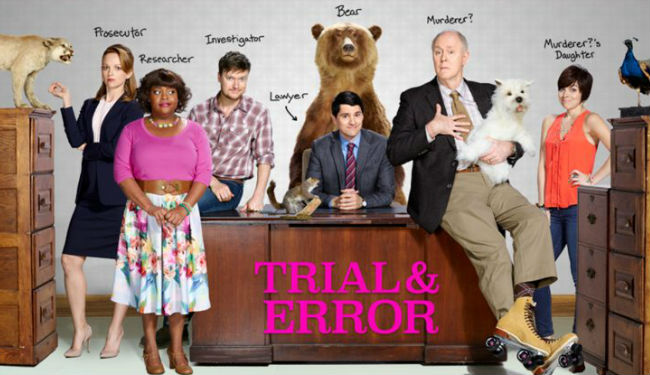 SNAPSHOT
In the spirit of true crime documentaries, this outrageous fish-out-of-water comedy features bright-eyed New York lawyer Josh Segal (Nicholas D'Agosto), who heads to a tiny Southern town for his first big case. His mission? To defend an eccentric "rollercizing" poetry professor (John Lithgow) accused of the bizarre murder of his beloved wife. Settling into his makeshift office behind a taxidermy shop and meeting his quirky team of local misfits, Josh suspects that winning his first big case will not be easy, especially when his client is always making himself look guilty. The cast also includes Jayma Mays, Sherri Shepherd, Steven Boyer and Krysta Rodriguez. (synopsis via Spoiler TV)
Mockumetaries done well make for hilarious storytelling.
By keeping a narrative straight face throughout, no matter how outrageous the content, and in most cases the content is gloriously over the top – see anything by Christopher Guest (his latest, Mascots, is now on Netflix), The Office and What We Do in the Shadows, maximum commentary can be had on a whole host of issues that engage with audiences in a way that far more straightforward genres might struggle to match.
NBC's new sitcom, Trial and Error looks to be very much in the spirit of the mockumetaries we have come to know and love, hilariously making fun of the slew of real crime documentaries that have become a genre du jour of late.
Even more pleasing, it stars John Lithgow, who was born to play the role of the defendant, as an entirely unsympathetic, highly likely to be guilty suspect who is utterly oblivious to the way in which he is imperilling his own defense and the sanity of his beleaguered lawyer.
While a trailer does not a funny ongoing series make, there are enough comic gems here and scene-stealing (or killing?) performances, that the signs are good that Trial and Error will be every bit as amusing as it promises.
Quite whether it lives up to its promise Trial and Error is something we will find out when the NBC show premieres on 7 March at 9.30/8.30c.