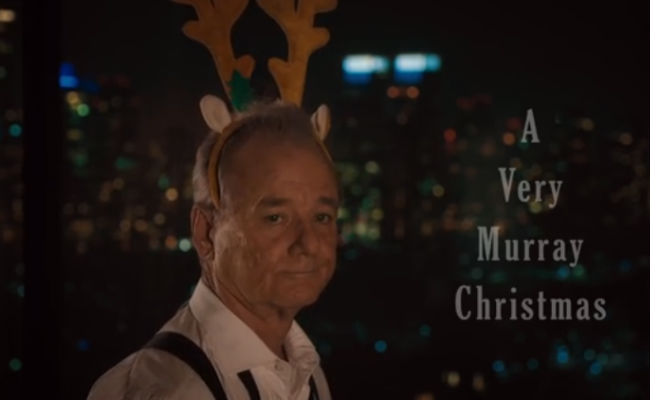 SNAPSHOT
Murray plays himself as the host of a holiday variety show, but a snowstorm may prevent anyone from showing up, leaving him to mope around … [that is until] a star-filled cast including Murray, George Clooney, Amy Poehler, Michael Cera, Chris Rock, Maya Rudolph, Jason Schwartzman, Rashida Jones and Miley Cyrus. (synopsis via C|Net)
I love Christmas more than words can express at the best of times.
So imagine, just IMAGINE, my Rudolph-infused delight when I discovered that Bill Murray will be fronting his very own Christmas special this December in Netflix, one directed by Sofia Coppola (who directed the extraordinarily gifted actor in Lost in Translation)!
Christmas 2015 just got a whole lot more merrier.
Or should that be Murray-ier?
Given that the much-loved and celebrated actor is already a staple of many Christmases past (and likely future too) thanks to Scrooged, a film in which he manages to invest new life and ennui simultaneously into Dicken's timeless A Christmas Tale, it's a eggnog-drenched no brainer to immediately begin making room for more tinsel-draped Murray-ness this coming festive season (and trust me, it's coming faster you think!).
Add in the fact that Murray is wearing antlers – in the trailer at least – and the Netflix special sounds like all those fabulously hokey specials of old that made Christmas feel like, well, Christmas.
In short, brief though the trailer is, this looks like a brilliant way to spend some time before Santa slips down your chimney.
Murray Christmas to all I say and to all, Murray all night.