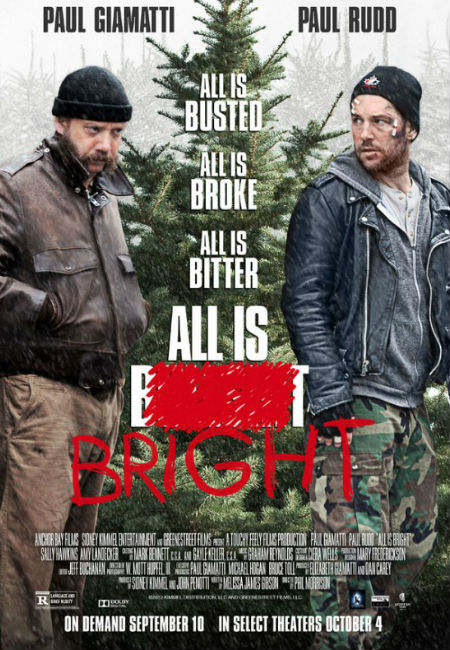 SNAPSHOT
All Is Bright is the story of two French Canadians who travel to New York City during the holiday season with a get-rich-quick scheme of selling Christmas trees. Dennis (Paul Giamatti) is a no-nonsense, recently released ex-con trying to get his life – and his wife – back. Rene (Paul Rudd) is Dennis's charming, shallow, former partner-in-crime who is now living with Dennis's estranged wife. Feeling guilty and knowing Dennis needs a job, Rene reluctantly agrees to make Dennis a partner in the scheme. Though the two former friends struggle with each other and an eclectic array of tough New York customers, they discover much about themselves in the process.
(source: slashfilm.com)
I love everything about Christmas.
The feeling in the air, the hustle and bustle – yes I love the busyness; throw some tinsel and lights on me and call me crazy but I do – the trees, the present-buying, special times with friends, and especially decorating the tree.
Oh how I love decorating the tree!
From putting it up (I have an artificial tree which is quite common in Australia believe it or not) to putting on boxes and boxes of precious pop culture ornaments, it's the most wonderful part of the most wonderful time of the year.
But for all my glorying in the wonder and majesty of Christmas, I am also painfully conscious that it isn't such a happy time for some.
All Is Bright, which had its worldwide premiere at the Tribeca Film Festival in April year, and is available for Video on Demand today before a limited release on 4 October, does its best to shine a spotlight on the people who may not be singing "Deck the Halls" with quite as much gusto as the rest of us.
While it opened, according to slashfilm.com, to mixed reviews, it is from the man who brought the luminously touching film Junebug, Phil Morrison, and stars two of the brightest (ahem) talents working today – Paul Rudd and  Paul Giamatti – so I am inclined to believe it will be worth the price of admission.
Much like another indie darling Prince Avalanche, in which the versatile Rudd also starred, it looks like one of those engaging lo-fi indies that is happy to quietly tell the story of two people finding more about themselves, each other and life than it is in telling an exhausting action-packed story.
And at a time of the year when life is amping up a thousand degrees or so with every passing minute, that's just fine by me.