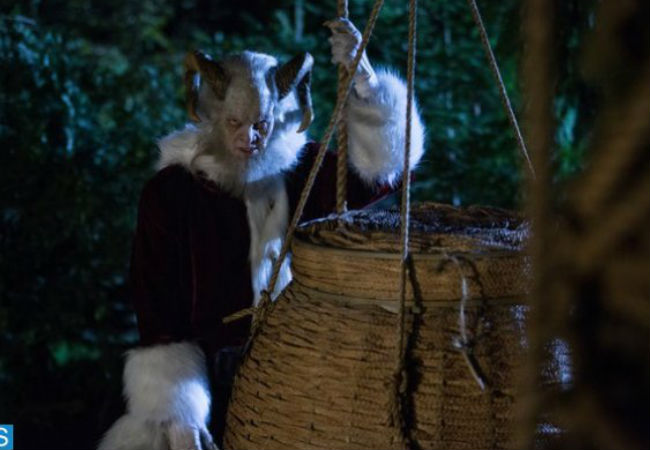 SNAPSHOT
After a string of delinquent teens go missing, an old Wesen tale of an evil Santa who brings more than just a lump of coal may be the prime suspect. The investigation intensifies as Nick (David Giuntoli) and Hank (Russell Hornsby) take things a little too far. Meanwhile, Monroe (Silas Weir Mitchell) enlists Juliet (Bitsie Tulloch) to surprise Rosalee (Bree Turner) for their first Christmas together with unintended results. Elsewhere, Captain Renard's (Sasha Roiz) tour of Europe brings him closer to tracking down Adalind (Claire Coffee). (source: seriable.com)
I have often thought that the Christmas song "Santa Claus is Comin' to Town" is kinda creepy.
OK, really creepy.
Bright, upbeat sing-songy tune though its tune may be, it's impossible to hide the fact that it has deeply unsettling lyrics like "He sees you when you're sleeping / He knows when you're awake  / He knows if you've been bad or good / So be good for goodness sake" and the ominous "You better watch out", all of which seem to indicate you should be welcoming him with flaming pits of oil in the fireplace and Alsatian guard dogs with Uzi machine guns rather than milk and cookies on the mantlepiece.
But the song makes a whole lot more sense if you consider that it could've been written about an evil Wesen version of Santa Claus who arrives in Portland and is usually the case with the scarier end of the Wesen spectrum creates all kinds of havoc which Nick and Hank must do their best to put right.
Like many of the creatures who turn up on NBC's Grimm, Krampus is in fact based on a centuries-old tradition in the Alpine countries of Europe (from Austria and Slovenia west through Switzerland and Germany to France and Italy) of a beast-like creature who would rain down judgement on misbehaving children.
Used as a source of disciplinary encouragement by parents, children were always urged to do the right thing lest Krampus came and got them come the festive season.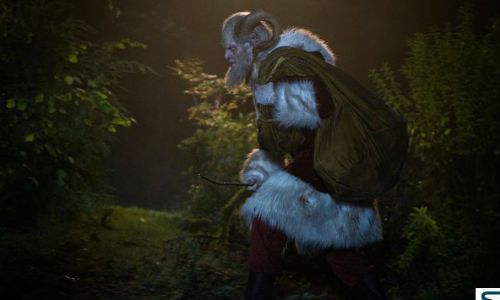 Krampus's fearsome reputation stands in stark contrast to St Nicholas, upon whom the modern jolly persona of Santa Claus is based, who gave well-behaved children all manner of gifts and good things.
Think of Krampus and St Nicholas then as the yin and yang of Christmas festivities.
Naturally in our modern age, St Nicholas/Santa Claus is a far more popular figure than the punitive figure of Krampus who kidnaps the naughty children and take them away to his, I am assuming elf and reindeer-less lair.
Grimm is doing its part then to bring Krampus back front and centre in our consciousness, a reminder that not everything about Christmas is jolly, happy, gift-giving fun.
It's a very Grimm way of celebrating the season and I can't help wondering if "Santa Claus is Comin' to Town" will end up playing somewhere in the episode.
Let's face it, it is a very creepy song.
"Twelve Days of Krampus" screens on 13 December in USA and on 18 December in Australia.
UPDATE 16 December 2013
Here is the promo for the double-header Grimm episodes "Cold Blooded and "Twelve Days of Krampus" + quite a number of related features: