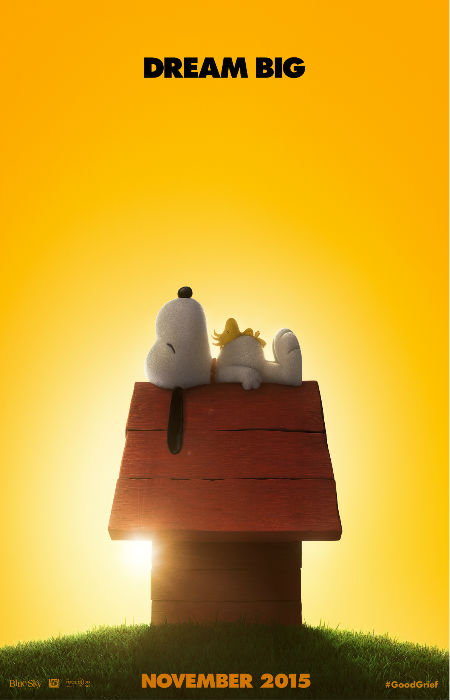 SNAPSHOT
Charlie Brown, Snoopy, Lucy, Linus and the rest of the beloved Peanuts gang make their big-screen debut, like they've never been seen before, in state of the art 3D animation. Charlie Brown, the world's most beloved underdog, embarks upon an epic and heroic quest, while his best pal, the lovable beagle Snoopy, takes to the skies to pursue his arch-nemesis, the Red Baron. From the imagination of Charles M. Schulz and the creators of the Ice Age films, The Peanuts Movie will prove that every underdog has his day. (official synopsis via Trailer Addict)
Good grief Charlie Brown, The Peanuts Movie has featured on this blog a lot lately! (See here, here, and yes here).
And with good reason, people – I will be forever in love with Charles Schulz's wonderful characters who have accompanied me on my journey through life with wit, wisdom and utterly relatable humanity ever since the day I discovered one of the paperback collections of the deservedly beloved comic strip in a local secondhand bookshop in Grafton NSW (Australia).
Not simply the best comic strip ever created, it is a bastion of insights, a guide to coping with life's less wonderful moments – much like Charlie Brown, I spent my childhood ignored and ridiculed by my peers, always on the outside looking in socially – and a trove of delights on those days when you were aiming for Joe Cool and yet ended up flat on your back, looking up at Lucy after she once again tricked you into trying to kick the football.
It means the world to me in so many ways and so when the news broke early last year, that a brand new Peanuts movie was on its way, I immediately did the Snoopy Dance of Joy and eagerly awaited all the posters and trailers for The Peanut Movie that inevitably would come my way.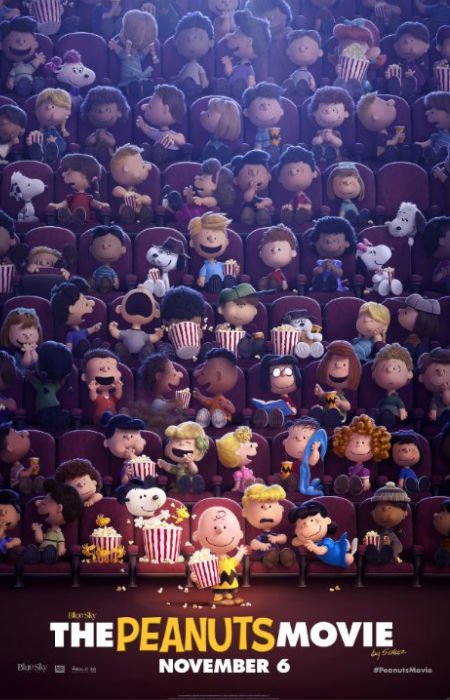 And without question the outpouring of Peanuts goodness has been wonderful with luminously colourful, warm and funny character posters, enticing teaser trailers and now, a full length trailer that lets us on in the plot for the film.
Centring around as always on poor hapless Charlie Brown, the everyman hero of the strip who tries so hard but almost never gets what he's going for – his tenacity in the face of constant failure is one of the reasons I adore him as a character – the  new trailer, which underscores that 3D graphics don't have to rob animation of warmth and emotional richness, reassures everyone who's a longtime fan, and our numbers are legion, that the producers have captured Schulz's magic onscreen once again.
Much like last year's Paddington film which felt like the books sprung delightfully to life, the trailer reminds us, much like a security blanket on an insecure day, why so many people have loved Peanuts for pretty much its entire 65 year lifespan to date.
All the main characters are there – Charlie Brown, Lucy, Snoopy, Linus, Sally, Peppermint Patty, and yes, happy am I, adorably messy Pigpen – but also, as this brilliant piece in The Washington Post points out, nods to the producers and animators of countless Peanuts specials over the years, Lee Mendelson and Bill Melendez, Snoopy's hilariously self-assured antics, Charlie Brown's romantic obsession with the Little red-Haired Girl, some of the original 2D comic strip art (rendered as Charlie Brown's thought bubbles), and a poignant reminder that Peanuts is "always, foremost, about friendship. A boy and his dog. A director and his collaborators. A fan and his enduring embrace of Sparky Schulz's heartfelt world.
There is so much to love in this brilliantly-paced, visually-rich, Peanuts lore-packed trailer which makes it abundantly clear that the producers of The Peanuts Movie as every bit as much in love with the comic strips and its engaging characters as the rest of us, and have distilled its enduring appeal, as only true fans can, for a whole new generation, and those who have been around a while, to enjoy all over again.
The Peanuts Movie opens in USA on 6 November 2015 and Australia on 26 December.