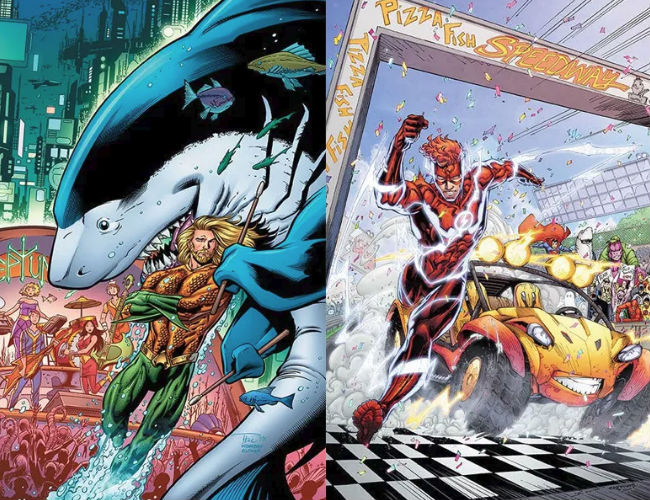 You have to hand to DC Comics – they may not have had much success with their foray into moviedom, save for the stellar success of Wonder Woman, but they sure know they're away around comic book adaptations of old, beloved Hanna-Barbera characters.
Following hot on the heels of the likes Adam Strange/Future Quest, Booster Gold/The Flintstones, Green Lantern/Space Ghost and Suicide Squad/The Banana Splits, comes all-new fantastic cross-fertilisations between the likes of Jabberjaw and Aquaman (my favourite combo to be honest), Black Lightning with Hong Kong Phooey, Dynomutt with Super Sons, and The Flash with another one of my enduring favourites, Speed Buggy.
What makes these updates of classic characters work so well is that the various creators – the full details of writers, artists and bios can be found at DC Comics – keep enough of the classic characters to make the update accessible and familiar while adding all kinds of new, highly-compatible facets.
It's a highly-imaginative gambit but it works and works beautifully, and I can't help but agree with IO9 when they say "These books are always a damn hoot."
That they are, and we'll find out how hoot-a-licious they are on 30 May when the one-shot issues are released.