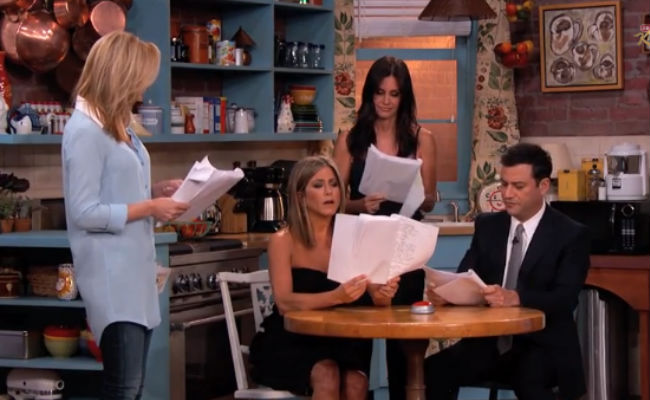 Sooooo … how you doing?
You know, because it's been over 10 years since Friends shuffled off its mortal TV coil – yes 10 years! 10 entire Joey-less years – and well, time may just been feeling like it's completely getting away from you.
(To mark the 10 year anniversary, Warner Bros is setting up a replica pop-op Central Perk, the coffee shop frequented by the gang, in New York from September 17 through to October 18.)
But fear not!
Über-Friends fan, Jimmy Kimmel has come to your rescue bringing Jennifer Aniston (Rachel), Lisa Kudrow (Phoebe) and Courteney Cox (Monica) together on his show Jimmy Kimmel Live, to act out a piece of Friends fan fiction he wrote way back in the '90s when the show was at its peak.
Naturally he placed himself front and centre in the script, playing the part of Ross (played by Dabid Schwimmer in the show), whose sexual prowess is first praised by Rachel, before Phoebe and Monica, who make surprise appearances through the purple door into an exact replica of Monica and Rachel's apartment than Kimmel was using as the set, join the Ross-praising chorus.
But what of Joey (Matt Le Blanc) and Chandler (Matthew Perry) you ask?
Sadly, and this is tragic indeed, they both died in the intervening years from rabies, given to them by Marcel the monkey who got a little bite happy.
It's the only sad part of this riotously-fun reunion which brings more of the Friends cast together than ever before being Friends-ish and reminds us, even with tongue firmly in satirical cheek, why we all loved, and still love, this wonderful sitcom so much.