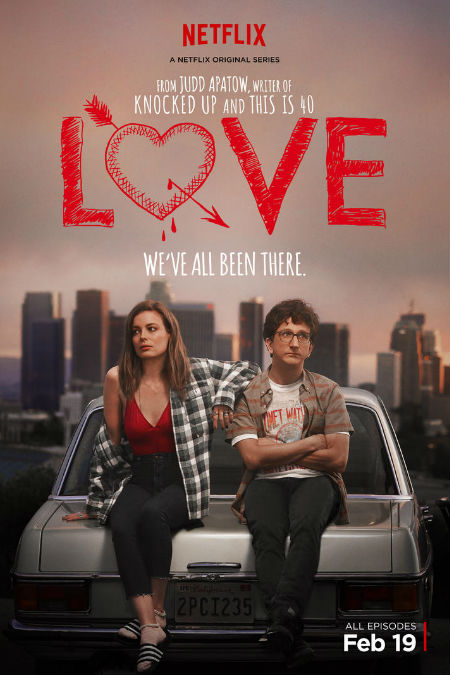 SNAPSHOT
LOVE follows Gus and Mickey as they navigate the exhilarations and humiliations of intimacy, commitment, and other things they were hoping to avoid. Having recently ended their respective dysfunctional relationships, Gus and Mickey meet each other by chance at a convenience store and forge a connection in the mending of their broken hearts and egos. (synopsis via Collider)
Love is a many-splendoured thing apparently.
But that doesn't mean that the road there isn't insanely complicated, hard to navigate and full of mixed signals from would-be suitors, none of whom truth be told have the slightest idea what they're looking for exactly (searching for love is often a case of "I'll know it when I see it.")
Judd Apatow's new series for Netflix, appropriately and prosaically entitled Love dives into this confusing morass of possibilities and disappointments with the rallying cry that "all relationships are bulls**t."
That said, both straight-laced mid-Western nerd Gus (Paul Rust) and radio prgrammer with "poor impulse control" Mickey (Gillian Jacobs) decide to give it a go anyway, reasoning that opposites attract and so they should have a reasonably good chance of making things work.
Or not. Who knows really? The central conceit of Love seems to be that love, once you reach it, is a rich and wonderful thing; it's the getting there that is the problem, one not easily solved.
It will be fun seeing how Gus and Mickey navigate the twisting corridors of modern love and whether they find that happy ever after that one very energetic Bluray-throwing-from-a-moving-car episode pretty much consigns to the too-hard, utterly-impossible-to-attain basket.
All 10 episodes of Love premiere on Netflix on 19 February 2016.