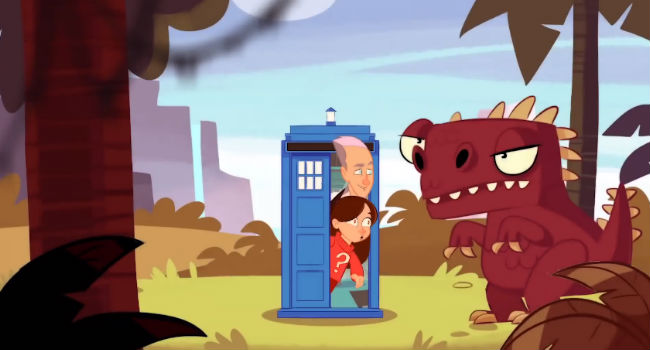 You may have thought watching Tom Baker or David Tennant or Matt Smith in action as the 4th, 10th and 11th Doctors respectively that Doctor Who was already plenty animated enough.
And while it's true that fighting the Cybermen, the Daleks, The Silence and the Weeping Angels is a fairly active pursuit, talented Dublin-born, Seattle-based art director and newspaper cartoonist  Stephen Byrne has found a way to make it even more animated, and yes adorable, than it already was.
Over "two weekends and a few evenings", Byrne fashioned a fake trailer for the sort of cartoon any Whovian worth his or her salt to watch The Animated Adventures of Doctor Who, in which Clara (Jenna Coleman) is a little girl, the Doctor (Peter Capaldi) is sprightly and damn near playful, and an assortment of Doctor Who regulars such as K-9, the Adipose and the usual cast of (very cute) villains are along for the ride.
Quite frankly with such an imaginative take on the august 50 year old plus franchise, the BBC would be mad not to offer Byrne the opportunity to turn this into a full order series.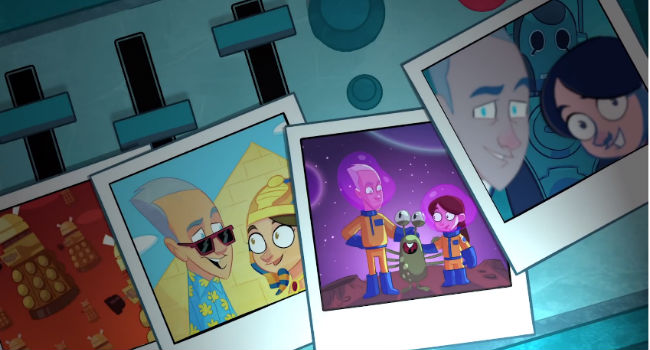 The man himself certainly has some great insight into how a Doctor Who series for kids and adults alike could work:
 "The inspiration was Doctor Who and the Disney cartoon show Gravity Falls. I'm surprised that given how big Doctor Who is now that the BBC haven't produced an animated version of the show aimed more precisely at the younger viewers, but still accessible to the older audience. Gravity Falls is the best example out there of a kid's cartoon that crosses the generational gap. I could see a Doctor Who animated series working with that sort of treatment and humor. It's something I want to see get made, so I made my quick version of it."
It's an intriguing idea and when you see the Doctor and Clara in all their animated glory, it's not too hard to see this as an ongoing companion series to the live-action series.
And frankly anyone who can make the Daleks and The Silence look almost adorkable is the man for the job.
Regardless of whether an animated series ever happens, this trailer is the perfect way to usher in the new series of Doctor Who which, after a round the world tour by stars Capaldi and Coleman promoting the show (which included Sydney), premieres season 8 with movie-length opening episode "Deep Breath" on August 23 in UK and USA and at 4.50am on August 24 on ABC here in Australia.
(source: c|net and Creative Bloq)
And if you're wondering what Gravity Falls is all about, here's the season 2 trailer that was premiered at this year's San Diego Comic-Con …
Finally here's the trailer for "Deep Breath", the first episode in a season that Doctor Who showrunner Steven Moffat has promised will contain less frenetic storytelling and a renewed sense of surprise.