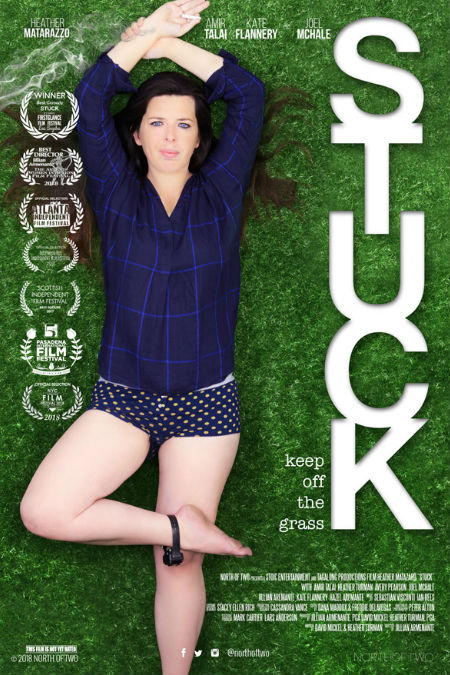 SNAPSHOT
Darby (Heather Matarazzo) finds herself in trouble with the law, and is sentenced to house arrest. Now she must serve 30 days in the home she used to share with her ex-boyfriend Mo (Amir Talai), that he now shares with his new fiancé. Stuck is directed by American actress-turned-filmmaker Jillian Armenante, making her feature directorial debut with this film after TV work including episodes of Kittens in a Cage. The screenplay is written by David Mickel and Heather Turman. It's produced by Jillian Armenante, David Mickel, and Heather Turman. (synopsis via First Showing)
Described by First Showing as a "a stoner comedy, a relationship comedy, and a life-lessons drama all rolled in one", Stuck is one of those films that could easily be either compulsively fun and thoughtful viewing … or not.
Based on the trailer, which sports witty dialogue, immediately relatable-to characters and some fine comically-timed performances, I'm plumping for the former, with the film giving every impression of making intelligently funny mileage out of its could go either way premise.
Partially crowdfunded through Kickstarter, and featured at a number of smaller festivals over the past year or so such as Atlanta Independent Film Festival, The Artemis Film Festival in L.A. and the New York Independent Film Festival, Stuck radiates everything that's good about indie cinema.
It's smart, hilarious, and one can only surmise possessed of some heartfelt humanity which dances in and out of the trailer footage, reassuring us that this is a film put together with care, passion and meaningful intent.
All of which should make for a some fine viewing via Amazon where Stuck is now available.