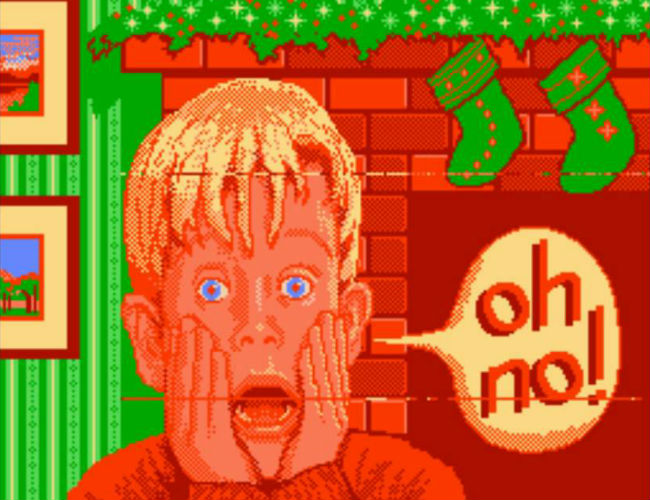 No one really wants to spend Christmas alone – then again for some people with off-the-charts dysfunctional families, it's an appealing prospect – but if you have to, and robbers or other n'er-do-wells come a-calling with less than festive intentions, then you should tackle your solo decking of halls and roasting of chestnuts just like Home Alone's Kevin McAllister.
Left alone by his large, extended, noisy and chaotic family, Kevin (Macaulay Culkin), first celebrates then grows a little uneasy at his power – he thinks his wish the night before for everyone to disappear is responsible for the empty house – and his lack of companions, especially when his next door neighbour "Old Man" Marley (Roberts Blossom) looks to be living up his reputation as a murderer.
Of course, Marley is really a sweet old man, and just as Kevin starts to realise how wrong he was about his neighbour, thieves in the form of Harry (Joe Pesci) and Marv (Daniel Stern), try to steal all his family's worldly goods.
"Try" being the operative word since as well know, they don't succeed, thanks to Kevin's tenacity and ingenuity, and a growing realisation that being alone might seem like fun, but it's way better to be loved and surrounded by those you love and who love you.
It's a great story and now it comes in 8-bit form, courtesy of
Cinefix
, who have proven rather adept at turning all kinds of pop culture icons into fun 8-bit video homages.
In the case of Home Alone, it feels like you're part of Kevin's heroic battle against the Wet Bandits, with every paint can, spider and tar trap rendered in wonderful 8-bit colour, complete with classic video game effects.
The really fun part is you get to be home alone without being alone at all, a pretty good outcome since as Kevin discovers, and many of us will attest, it might look appealing to be all by yourself but the novelty quickly wears off, especially at Christmas and other major holidays of the year, and in the end, all you really want to do is have everyone close by, sharing it all with you.
Preferably with the Wet Bandits suitably chastised and safely in custody.