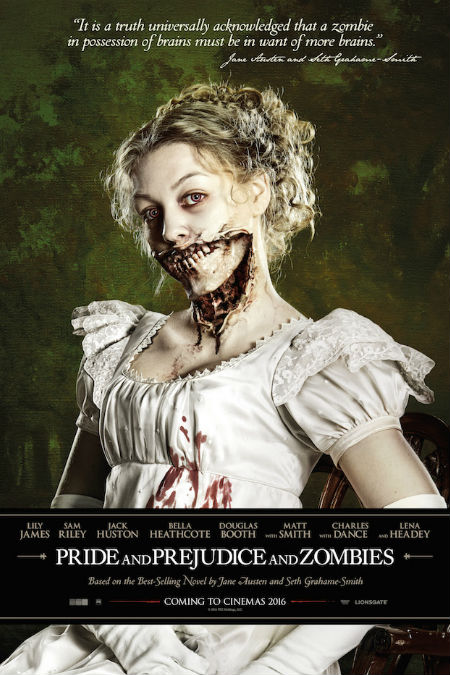 Purists, particularly those of the Austin persuasion, avert your unsullied eyes now!
For the rest of us, who enjoy a jolly good mash-up of Jane Austen social commentary and some very zeitgeisty undead-ness, gaze upon the relatively all-new trailer – I held it over for Halloween itself; the trailer was actually released 3 weeks ago – for the cinematic adaptation of Seth Grahame-Smith's Pride, Prejudice and Zombies.
Unlike zombies themselves, who are instinctual and don't display much in the way of full speed ahead, gentrified action, the trailer is packed to the rotten jaws with it, as the Bennett sisters, who appreciate that a young woman in their perilous Regency times cannot just partake in horseback riding and costumed balls, do their best to keep the zombie hordes at bay with swords and a never-say-undead attitude.
Helmed by Igby Goes Down director Burr Steers, the film promises to be a richly-executed simultaneous homage to two genres, a seamless parody of costumed drama and zombie apocalypse, if the trailer is anything to go by.
It starts out as any grand BBC drama might with scenes of young, well brought-up women reading, dancing and being kind, before some pounding modern music kicks in and the world of Austin goes decidedly more hardcore.
It looks to have captured the spirit of the book perfectly and bodes well for a satisfying moviegoing experience when Pride Prejudice and Zombies opens in USA on 5 February 2016.