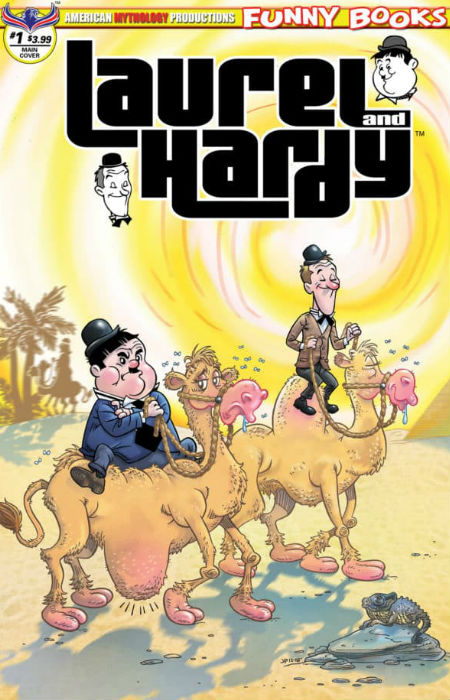 SNAPSHOT
There are few names in the history of comedy which have stood the test of time. Acts who transcend age and bring laughter to generations like few have before or after them. They have been recognized as a template for modern humor and celebrated by today's most popular funnymen and women alike. Stan Laurel and Oliver Hardy were the pinnacle of comedic genius for their time.


Now, American Mythology Comics, the same company who brought The Three Stooges back into the comics' spotlight, is bringing Laurel & Hardy's beloved slapstick shenanigans back to their legion of fans with the release of a new comic book in April of 2019! The comic book publisher plans to both celebrate and pay tribute to Stan and Ollie's legacy by bringing new stories to fans with the upcoming series, and also by reprinting some of their frantic follies from years past.


Art for the new series will be created by veteran comic artist, Jorge Pacheco (Rocky & Bullwinkle, Pink Panther, Looney Tunes). Pacheco is well-versed with illustrating the comedy duo, having already done so over thirty years ago when Stan and Ollie last saw the paneled pages of comics. The stories for the premiere issue will be provided by novelist and comic writer, S.A. Check (The Three Stooges, Casper, Legend Gary), and multi-media writer, Jordan Gershowitz (Tom and Jerry, Danger Mouse, Sesame Street). Both new stories will center on honoring the tone and feel of the original skits made famous by the comedians. (source: Bleeding Cool)
Much of my childhood was spent, well the lunchtimes during school holidays anyway, watching Laurel and Hardy short films on Australia's national broadcaster, ABC.
It wasn't simply that the two men, Englishman Stan Laurel and American Oliver Hardy who were great friends off-stage too and were recently beautifully brought to life in the biopic, Stan & Ollie, were very funny.
There was also a richness, warmth and innate humanity to their cleverly-written slapstick routines which appealed to me in a way that acts like The Three Stooges simply didn't.
I wanted to laugh and feel something and Laurel & Hardy gave me that, and they will get another chance to do it all over again when a new comic book series that will contain classic and all-new adventures for the two classic comedians.
I didn't think anyone could be as excited as me about the series but artist Jorge Pacheco, understandably so, is giving me a run for my money.
Recently, my good friends at American Mythology asked if I'd like to be an artist on a new project for the publisher. I was excited & asked what book? He said Laurel & Hardy. Sometimes, luck is a wonderful thing. I hope you all enjoy the comedic duo's antics half as much as I've enjoyed bringing L&H to life in these comic pages! (Bleeding Cool)
Excited much? You should be if you enjoy classic comedy.
Laurel and Hardy debuts this April.