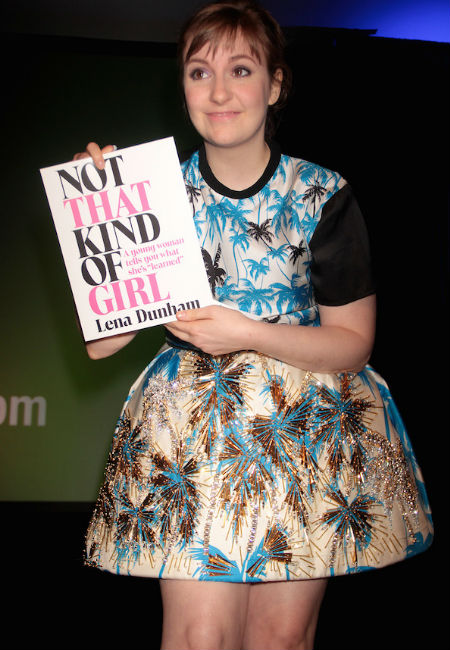 Lena Dunham is an impressively talented young lady.
Along with creating, writing and starring in the critically-acclaimed and immensely popular HBO show Girls, about the lives of four flawed but earnest twenty something women in New York, and heading up projects via her production company such as the documentary Three Suits about a team of Brooklyn-based tailors who cater to transgender clients, she has also been busy writing a book of personal essays cleverly disguised as an advice book, Not That Kind of Girl (out September 30 this year).
And by all accounts, well that of Michiko Kukatani of the New York Times book review, it's good, very good:
"Ms. Dunham's smart, funny new book, Not That Kind of Girl is a kind of memoir disguised as an advice book, or a how-to-book (as in how to navigate the perilous waters of girlhood) in the guise of a series of personal essays … Ms. Dunham doesn't presume to be "the voice of my generation" or even "a voice of a generation," as Hannah does in the show. Instead, by simply telling her own story in all its specificity and sometimes embarrassing detail, she has written a book that's as acute and heartfelt as it is funny."
In writing what sounds like a thoroughly entertaining and quite possibly useful book, Lena Dunham has joined the ranks of fellow funny women like Jennifer Saunders (Bonkers), Amy Poehler (Yes Please, due October 28, 2014), Mindy Kaling (Is Everyone Hanging Out Without Me? (and Other Concerns)) and Miranda Hart (Is It Just Me?), all of whom have taken their life insights and gift for incisive comedy and turned them into hilarious tomes that are more than worth their space on your bookshelf.
And like any self-respecting author worth her salt, albeit one with a far higher profile than most, Lena Dunham is going all out to promote her book both conventionally, via a very much in demand book tour, and delightfully and unconventionally via a series of advice videos entitled #AskLena, according to Esther Zuckerman at Entertainment Weekly:
"In anticipation of the release of her upcoming book, Lena Dunham is doling out advice in a series of YouTube videos, which feature an Eloise-esque backdrop and cameos from her dog, Lamby.

"The topics Dunham tackles in the video aren't necessarily out of left field considering her body of work. In the first, she counsels a woman who considers herself a feminist but also likes to 'dress like a ho'".
They are full of sage advice, good humour, and all the delightful quirkiness you would expect from this funny, clever and endlessly appealing young woman and worth watching while you wait the book to fall into your soon to be page-turning hands.