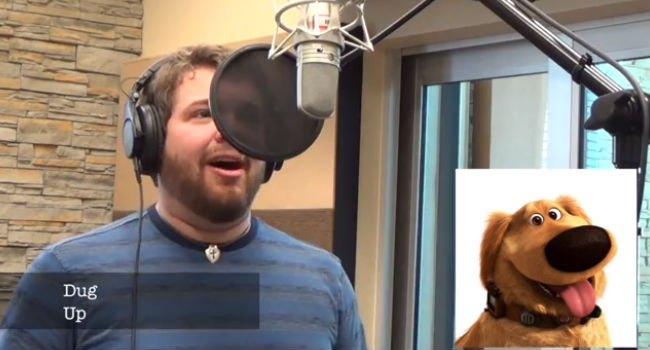 Frozen, one of the best films Disney has released in years and rightly regarded as an instant animation classic, is everywhere it seems, much like the ice that Elsa (Idena Menzel aka Adele Dazeem), the Snow Queen keeps throwing around throughout the beautiful film.
"Let It Go", the standout song of many wonderful songs written by the talented Robert Lopez and Kristen Anderson-Lopez for the movie, won Idina Menzel a coveted performance spot at the recent 86th Annual Academy Awards, Oscars for the husband and wife songwriting team who wrote it, and even an historic Top 100 chart berth for Menzel, who is, according to Billboard, "the first person with both a top 10 hit and a Tony Award for acting".
And now an enterprising, and very talented musician/filmmaker from Dallas, Texas by the name of Brian Hull has taken the song one fun step forward by singing "Let It Go" in the voices of 21 varied Disney characters including Cogsworth from Beauty and the Beast, Dug from UP, and and Sebastian from The Little Mermaid.
He hands down nails each and every one of the voices, personalities and all, making this video below, which was featured on The Disney Blog, and which I discovered via Laughing Squid, of the best ways to spend three or so minutes that I have found in some time.
And then you'll have to "Let It Go" …
Ha! I'm kidding … no, you should keep listening and listening and marvelling at the amazing talent associated with this beautiful, award-winning song.
Then you "Let It Go" …
NO! Not even then … sheesh what is the matter with you people?
And while we're on the subject on people singing Disney tunes, and we are, here's Loki himself aka the multi-talented Tom Hiddleston – He sings! He dances! He juggles walrus! (OK, I can't be completely certain about the last claim) – singing along as a young Captain Hook in the upcoming Mouse House film The Pirate Fairy:
"From the world of Peter Pan comes The Pirate Fairy, a swashbuckling new fairy adventure about Zarina (voiced by Christina Hendricks), a cunningly smart and ambitious dust-keeper fairy who is strongly intrigued and captivated by blue pixie dust and its endless magical properties and possibilities.

When Zarina's wild ideas casue her to go too far and cross the line, she flees Pixie Hollow and joins forces with the scheming pirates of Skull Rock, who make her captain of their ship. Tinker Bell  and her friends must embark on an epic adventure to find Zarina, and together they go sword-to-sword with the band of pirates led by a cabin boy named James (voice of Tom Hiddleston), who will soon be known as Captain Hook himself." (synopsis via disney.wikia.com)
It looks like an enormous amount of fun and yet more proof that there is nothing that the amazingly talented Tom Hiddleston cannot do.
A straight to Bluray/ Digital HD release, The Pirate Fairy is available 1 April 2014.