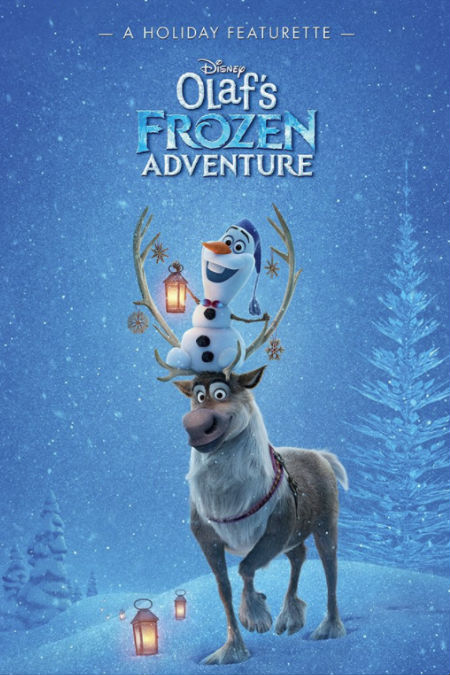 SNAPSHOT
Featuring four new original songs, the 21-minute featurette welcomes the original cast and characters back to the big screen, including Olaf (Josh Gad), who is on a mission to harness the best holiday traditions for Anna (Kristen Bell), Elsa (Idina Menzel) and Kristoff (Jonathan Groff). Directed by Emmy-winning filmmakers Kevin Deters and Stevie Wermers-Skelton (Prep & Landing), produced by Oscar winner Roy Conli (Big Hero 6), with original songs by Elyssa Samsel and Kate Anderson (Between the Lines). (source: Coming Soon)
News that Olaf, one of the breakout animated stars of Frozen, itself a mega breakout Disney hit of earworm-consuming proportions courtesy of "Let It Go", would be back in his own short film, Olaf's Frozen Adventure, was greeted with much joy by anyone who enjoyed his chaotic, geewhiz charm.
Which includes yours truly, a man who brazenly and without apology uses his delightful nieces and nephews to see all manner of gorgeous animated films.
So naturally, when news broke that Olaf's Frozen Adventure, which is being billed as the set-up to Frozen 2 which releases November, 2019, would be screened ahead of Pixar's Coco (the first non-Pixar short to do so, I believe), there was much rejoicing. (I danced on the inside because #commuting but trust me there was dancing and giddy celebration.)
Granted it will screen in Australia after Christmas has officially wrapped but still in the middle of the 12 Days of Christmas which means I can keep the celebrations going after the last cracker has been cracked and present unwrapped.
Thank you Disney.
Olaf's Frozen Adventure will screen ahead of Coco from 22 November USA and 26 December Australia.
Recent tweets from Idina Menzel and Josh Gad, who voice Elsa and Olaf respectively, are also giving us a delicious sneak-peek listen at some of the new songs that will debut in Olaf's Frozen Adventure …