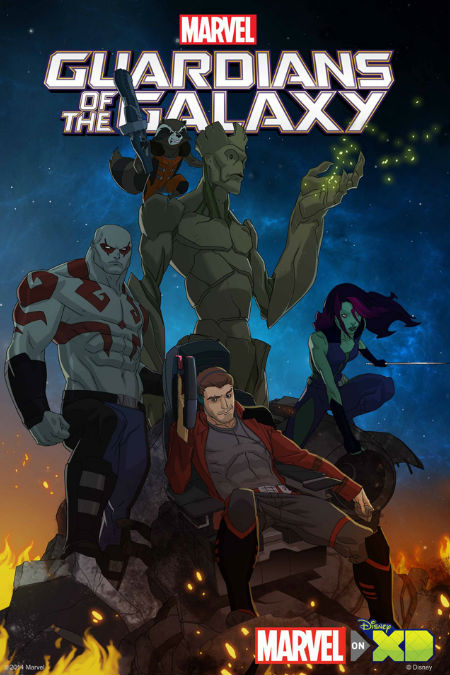 You might be thinking, and if you are, well congratulations you for not letting those neurons sparkly idly for no reason, that Guardians of the Galaxy, one of my favourite movies from 2014, is already plenty animated enough.
After all, save for a few touching, heartfelt scenes, one of which is close to one of the most poignant scenes I've seen in any movie ever (you all the know the one), it's one gloriously, full-on, action-filled, fun romp through the galaxy with characters that come close to leaping off the screen.
That's pretty animated!
But not it seems animated enough for the creative minds at Marvel who have come up with a cartoon take on the unexpected saviours of all we galactically hold dear – you know, like whole planets and a dearth of star-consuming dictators – that will screen on Disney XD.
As Bonnie Burton at C|Net makes clear, the cast may be different but the gang, who we are reminded are a little bad and a little bit good, are up to pretty their same old highly-watchable tricks:
"The new animated show has a different cast to the movies, with Peter Quill/Star-Lord played by Will Friedle, Rocket Raccoon by Trevor Devall, monosyllabic tree Groot by Kevin Michael Richardson (surely the easiest voice acting role ever), Gamora by Vanessa Marshall and Drax the Destroyer by David Sobolov.

The trouble-making gang discovers a strange artifact that can only be opened by Quill's DNA. They find a treasure map leading to a weapon called the Cosmic Seed, which can create the next universe,according to IGN. Of course, being the Guardians of the Galaxy, they must prevent it from getting into the wrong hands, such as galactic gangster boss Thanos, brothers the Collector and the Grandmaster, and legendary trickster Loki."
It looks like it has everything that made the film such an expected delight, and should tide us over nicely till the movie sequel debuts in 2017.
The series premieres in the USA on Disney XD on September 26, 2015 – there's a sneak preview on September 5 if you can't wait till then – with UK and Australia to follow.