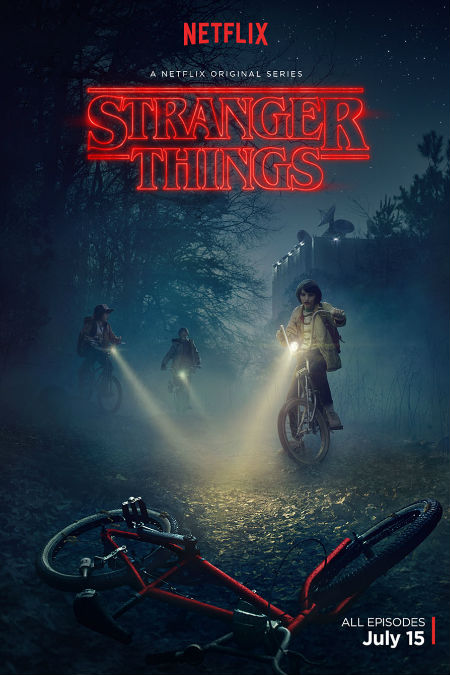 SNAPSHOT
When a young boy vanishes, a small town uncovers a mystery involving secret experiments, terrifying supernatural forces and one strange little girl. (official synopsis via Netflix)
If there is one thing that Steven Spielberg has taught us through his vast catalogue of otherworldly though grounded in heartfelt humanity tales such as E.T. and The Goonies, it's that there is far more to the world around us than we give it credit for.
Far more mystery and wonder, danger and suspense, possibility and threat.
Life is not the bland edifice it's often made out to be and we underestimate what is possible at our peril and often to our great loss.
Stranger Things, created by Matt and Ross Duffer, and channelling a very Spielbergian energy and narrative sensibility, keeps true to the master storyteller's vision without coming across as derivative as IGN makes clear in its spoiler-free review:
"From the moment Stranger Things begins, you can feel the influences that have guided series creators Matt Duffer and Ross Duffer (Wayward Pines). The depiction of these young kids and the way they speak, interact and, yep, ride bikes together, feels incredibly Spielbergian – quickly evoking the vibe of the domestic/"kids on an amazing adventure" scenes of E.T. (plus some of the Spielberg-produced The Goonies)."
But the show goes beyond just that one particular influence they note:
"However, Stranger Things isn't only going for the awe and the earned sentiment of Spielberg. This is a true mash-up of 80s influences. The great opening credits make this clear with their very John Carpenter-style music and vibe, and what follows is often scary – even getting into outright horror movie material, complete with some gore and at least one unfortunate victim. The Duffer Brothers have named Spielberg, Carpenter and Stephen King as primary influences and it shows in the final product."
That's some pretty cool creative influencing going on there but the good news is that the Duffer brothers appear to have taken these inspirations and use them to craft their own amazing vision, making Stranger Things a wondrous thing indeed.
All eight episodes of Stranger Things will be available for your bingeing pleasure on 15 July.