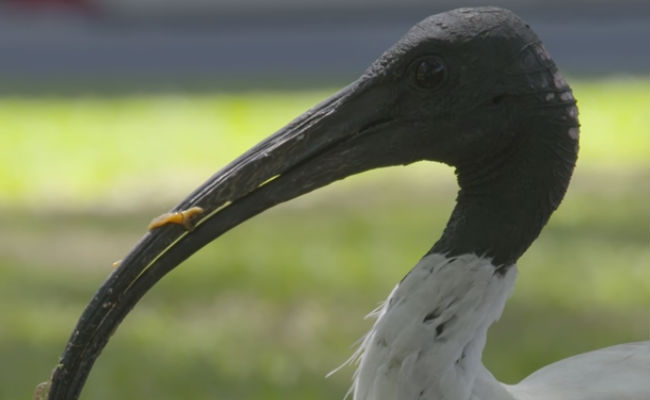 SNAPSHOT
Life survives in the harshest environments on planet Earth. Searing deserts, the frozen Arctic tundra. However there are more toxic places. Our cities and these have spawned an entirely new subspecies: The Australian bin chicken. Scientists have now confirmed what many Australians have believed for decades. once known as the white ibis the species has evolved into a superior scavenger from the city's rooftops. (synopsis via Laughing Squid)
Ah, the Aussie Bin Chicken!
True, it was once known as the White Ibis, and to dedicated ornithologists out there it quite likely still is, but to everyday city-dwelling Aussies in Sydney, Perth, Brisbane and Wollongong, the ubiquitous scavengers, who have adapted superbly to life in the cities, are affectionately/not so affectionatly known as Bin Chickens.
This hilarious parody by Matt Eastwood & David Johns makes merry with the Bin Chicken's new status as the nuisance creature of the urban landscape – if you're a pigeon or possum, this is your lucky day! – adding to the effect by delivering the narration in a tone happily reminiscent of the great Sir David Attenborough (whose series Planet Earth II actually featured an episode called "Cities" detailing how some animals are adapting superbly to the new urban environment around them).
I'd like to think he would find this all very amusing and honestly you will too … unless they happen to frequent a bin near you and then maybe not so much.