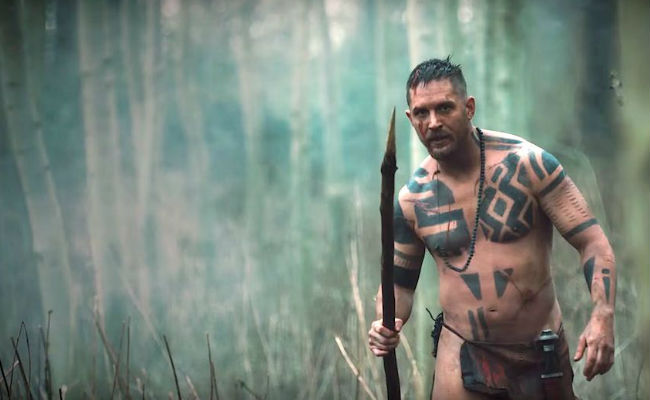 SNAPSHOT
Set in 1814, Taboo follows James Keziah Delaney, a man who has been to the ends of the earth and come back irrevocably changed. Believed to be long dead, he returns home to London from Africa to inherit what is left of his father's shipping empire and rebuild a life for himself.  But his father's legacy is a poisoned chalice, and with enemies lurking in every dark corner, James must navigate increasingly complex territories to avoid his own death sentence. Encircled by conspiracy, murder, and betrayal, a dark family mystery unfolds in a combustible tale of love and treachery. (synopsis via Monkeys Fighting Robots)
This is a fish-out-of-water tale, or rather a fish-back-in-a-lot-of-hot-water tale, on an epic scale.
And as James Keziah Delaney (Tom Hardy, a superlative actor by anyone's estimation) learns all too quickly in this trailer for Taboo, which is set to debut on FX sometime in 2017 – so don't heat up the popcorn just yet and leave the wine in the fridge for now – what starts out as a simple quest to resume his place in society soon becomes far more dangerous, nasty and brutal that he could have ever imagined.
Take this assessment by one of Delaney's many enemies to gain an understanding on exactly what he's up against:
"I would guess that confidence allowed his true savage nature and mother's madness to emerge."
And hello to you too, my "friend".
His response to all this barely-concealed bastardy?
"I have promised that I will do very, very foolish things" and "I am a very dangerous man to know."
In other words, be careful gathering enemies for you may unleash far more than you bargained for and find that you face a far more formidable opponent who will not be easily vanquished.
Great evil may be afoot but an even greater force is rising to challenge it and he will not go gently into his foes' "good night".
Taboo premieres on FX in 2017.