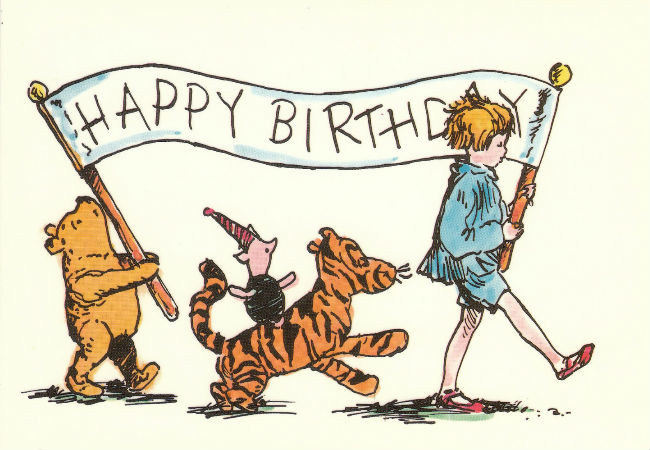 It may hard to believe but Winnie the Pooh, A. A. Milne's beloved creation who, along with other characters based on his son Christopher's stuffed animals, resides in the quintessentially-English Hundred Acre Woods, is 90 today.
Yes, 90 years old! Time flies when you're eating a great many smackerels of honey doesn't it?
The stories of Winnie and the Pooh and his adorable cohorts such as Eeyore (a Christmas present), Piglet (a gift), Kanga, Roo and my favourite Tigger, were first published in 1926, and were immediately popular with 35,000 copies sold in the UK and over 150,000 in USA.
Their popularity has only climbed in the years since, and as Milne's beloved creations celebrate a major milestone, eternally wrapped in the embrace of Christopher Robin's magically-imagined childhood, they are about to be joined by a new character, a penguin who makes his introduction in an officially-sanctioned sequel, The Best Bear in All the World by Brian Sibley, which released 6 October.
The book, which follows a story released earlier this year celebrating the birthdays of both Pooh and Queen Elizabeth,  "Winnie-the-Pooh and the Royal Birthday" by Jane Riordan with illustrations by Mark Burgess (the successor to E H. Shepard), was inspired by an obscure photograph of Christopher Milne playing with a toy penguin, says Sibley.
"While pondering what other toys Christopher Robin might have owned but which were never written about, I remembered seeing a photograph of father and son playing on the nursery floor with Winnie-the-Pooh and – a penguin! The thought of Pooh encountering a penguin seemed no more outlandish than his meeting a kangaroo and a tiger in a Sussex wood, so I started thinking about what might have happened if, on a rather snowy day, Penguin had found his way to Pooh Corner…"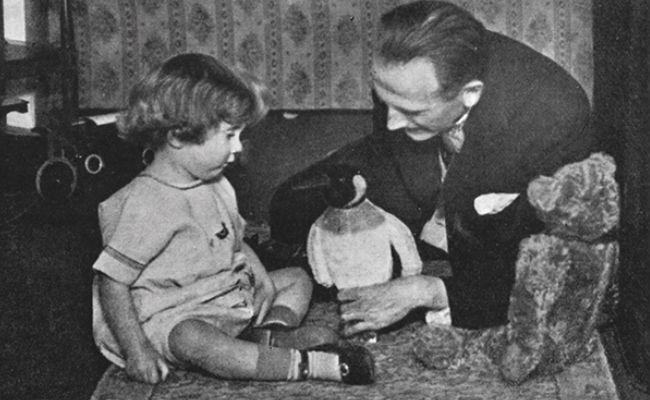 The addition of the penguin to the characters from the Hundred Acre Wood has delighted Harrods whose archivist Sebastian Wormell celebrated the venerable department store's enduring link to Milne's beloved characters.
"Harrods is famous as the original home of Winnie-the-Pooh, but the Toy Department where Mrs Milne bought the iconic bear hosted a huge array of stuffed animals. In the early years of the 20th century, toy penguins soared in popularity as the exploits of Antarctic explorers such as Shackleton and Scott fascinated the public. We believe that the toy pictured could be 'Squeak', which originated in our 1922 catalogue and came from Pip, Squeak and Wilfred, a popular cartoon-strip. It's exciting to think a new Harrods toy could be joining Winnie-the-Pooh's gang after all this time."
The sequel is not the first to follow in Milne's footsteps with a 2009 book by David Benedictus, Return to the Hundred Acre Wood, received with delight by Pooh fans eager to read further adventures linked to the original Winnie the Pooh book which was voted Britain's most-loved children's book of the last 150 years.
And if that's not enough, an A. A. Milne biopic starring Domnhall Gleeson and directed by Simon Curtis (My Week With Marilyn, Woman in Gold) is set for release in 2017, further cementing interest in everyone's favourite teddy bear in what is a very big year for him and his lovely friends indeed.
Personal note: I have long loved Winnie the Pooh ever since I discovered my mother's childhood copies of The House at Pooh Corner and When We Were Very Young as a child, books which I devoured with my customary reading zeal, falling in love with Pooh and the gang in the process, a long relationship which I celebrated in Rip'd From the Pages of My Childhood: Winnie the Pooh. Happy birthday pooh – you mean the world to me!