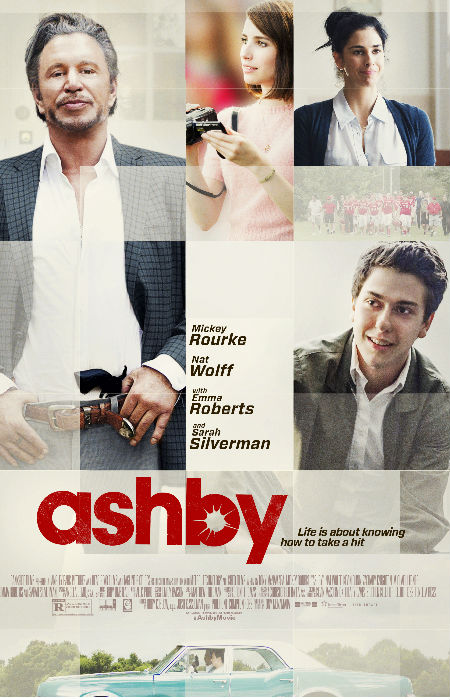 SNAPSHOT
"Ed Wallis (Nat Wolff) and his spirited single mom (Sarah Silverman) are new in town. At school, Ed struggles to fit in. He secretly desires to make the football team although the jocks disapprove, and he connects with only one other student, brainy Eloise (Emma Roberts). Given an assignment to interview someone 'old,' Ed approaches his new neighbor Ashby Holt (Mickey Rourke), a man facing troubling news he'd rather avoid. Although Ashby pretends to be a retired salesman, Ed soon learns that he's actually a former CIA assassin. As Ed gains new perspective from his unlikely friendship with Ashby, he's prompted to take more chances with his life, and with Eloise. Meanwhile, as Ashby faces a crossroads, he must find the courage to settle old scores and set things right." (official synopsis via Indiewire)
With delightful echoes of St. Vincent, Gran Torino, and a thousand other movies on the same theme, Ashby still looks like it manages to bring something fresh to a very crowded sub-genre table.
(I'm assuming young, lonely, alienated people finding friendship and wisdom from unorthodox, unlikely older people is at least a sub-genre, quite possibly, its own genre; and if it's not, it totally should be.)
It has a lot to do the camaraderie and chemistry between Nat Wolff as the younger, put-upon, awkward-as-hell Ed Wallis, and Mickey Rourke as the grizzled old neighbour with a secret that, let's face it, doesn't stay a secret for all that long.
Together they give the film, which looks to have a pleasingly off kilter flavour enough zest and momentum that not even the all but inevitable enriching and heartwarming ending will take away from some pretty unique performances.
Add in Emma Roberts, who makes every film she's just that little bit more wonderful and the giddily acerbic Sarah Silverman, who's proving she has quite the dramatic nous, and Ashby looks like being the sort of quirkily mainstream indie film (also, totally a thing) it's worth going to the theatre to see.
Thankfully, critics like Kate Erbland at Indiewire's The Playlist, seem to agree:
"It's inevitable that Ashby will squish together its two most important plots —Ashby's mysterious quest and Ed's attempts to be a football star— but McNamara attempts to keep the movie ticking right along, and for all its half-cocked plotlines, "Ashby" is able to maintain a consistently humorous and light tone. Ed and Ashby's worldview is more than a bit skewed, but so is the film's, and it works well enough to keep the film entertaining and bouncy."
Ashby opens 25 September 2015 in USA.