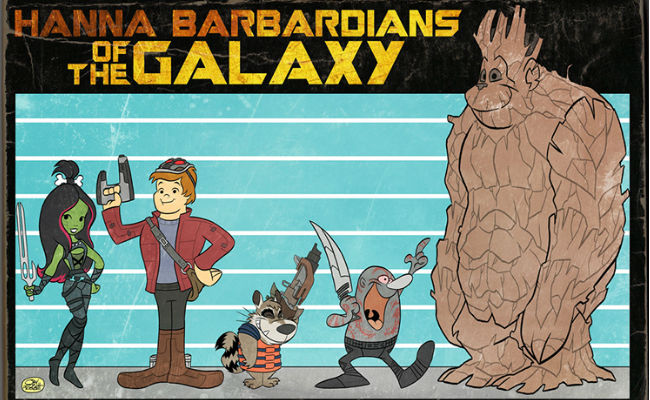 Ah the gods of pop culture creativity have smiled upon us once again!
Just when you thought Guardians of the Galaxy couldn't possibly get any bigger or more impressively cool, along comes Michigan-based artist Jay P. Fosgitt to render Starlord (Christ Pratt), Gamora (Zoe Saldana), Drax the Destroyer (Dave Bautista), Groot (Vin Diesel) and Rocket Raccoon (Bradley Cooper) as classic Hanna-Barbera cartoon characters.
In case you're wondering just who they may be, Jay has helpfully explained which characters gave him inspiration for his highly original, entertaining take on one of  last year's biggest movies and most loved group of characters:
"The Guardians of the Galaxy, envisioned as a 1970's Hanna Barbera cartoon. That's teenage Pebbles and Bamm Bamm as Gamora and Star Lord, Muttley as Rocket, Captain Caveman as Drax, and Grape Ape as Groot. I added a distressed texture to give this piece a vintage "garage sale" look."
It's a clever, gloriously-wonderful idea with none other than the movie's now much-feted director James Gunn giving the illustration his seal of approval: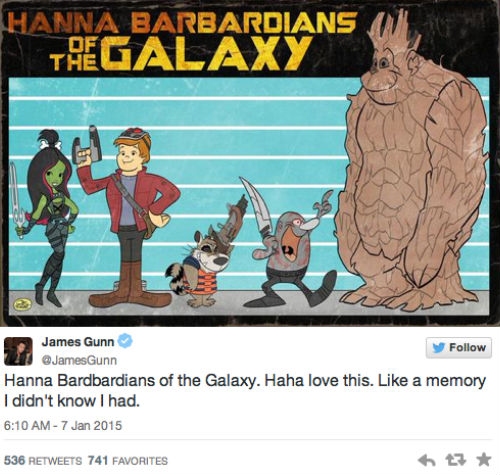 I have to say I quite agree with him.
As someone who, ahem, grew up watching the Hanna-Barbera characters when they were first on our TV screens, and who adored The Guardians of the Galaxy movie in every way, Jay's artwork is exactly "like a memory I didn't know I had".
I look forward to this talented artist coming up with more inspired Hanna-Barbera inspired takes on zeitgeist-dominating pop culture characters just as soon as he possibly can!
(source: Laughing Squid)