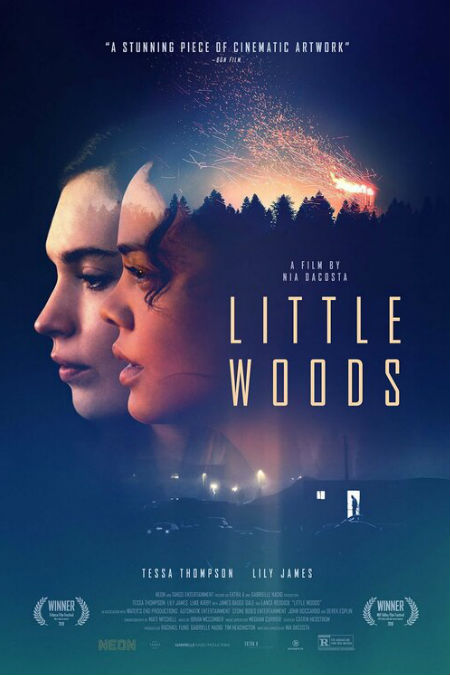 SNAPSHOT
Ollie (Tessa Thompson) is a reformed drug runner now living in an economically depressed small town in North Dakota, who was caught coming back from Canada with medicine for her terminally ill mother and has been toeing the line ever since. After her mother dies, Ollie's sister Deb (Lily James) shows up on her doorstep with a hungry child and an unplanned pregnancy. Ollie can only see one viable option: quickly raise money to pay back the bank and hold onto their mother's home, so Deb can raise her family safely away from her abusive ex. But to do that, she'll need to return to the dangerous way of life she thought she'd left behind. Little Woods is both written and directed by filmmaker Nia DaCosta, making her feature directorial debut after making a short film previously. This premiered at the Tribeca Film Festival last year. (synopsis via First Showing)



Whatever your opinion of the veracity of movie review aggregation sites like Rotten Tomatoes and Metacritic, the fact is they play a major role in whether people go to see films.
So getting 100% on Rotten Tomatoes, the holy grail of any film's marketing department, is a pretty big deal, especially when it's based on 21 reviews, all of whom cite, to varying degrees, the deeply-personal nature of the storytelling.
Take this gem of a review on the Observer.
Little Woods is very personal and very touching, and it makes a compelling argument as to why good people do bad things, a tried-and-true motif that has become a staple of the new westerns emerging today. With the film's recession undertones and side-door into the opioid crisis, it's difficult not to resonate with its relevancy.
It's a reminder I think that life is incredibly complicated and we assign simplistic cut-and-dried motivations to peoples' actions at our peril.
Little Woods, opens in USA on 19 April; international release dates are yet to be assigned.