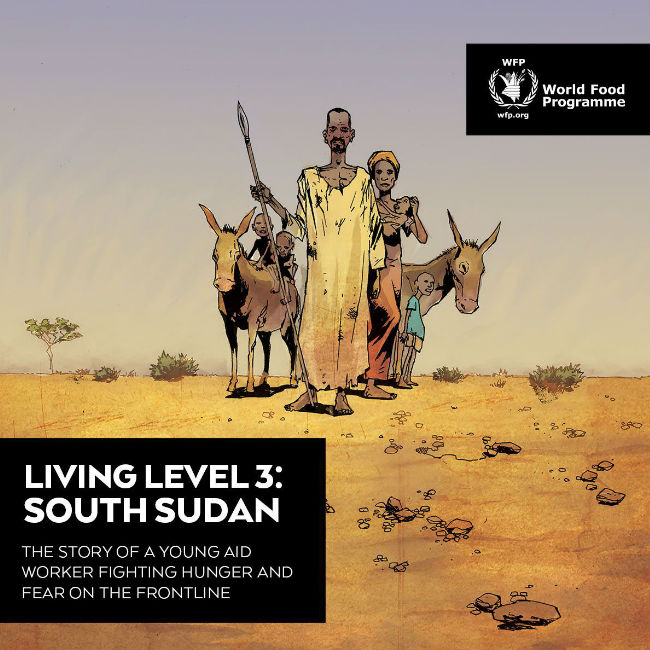 It's been well-documented that art and pop culture can have a powerful effect in spreading information and awareness, creating a groundswell of understanding and motivating action that leads to real change.
One quite striking way this is being demonstrated at the moment is a 48 page graphic novel, Living Level 3: South Sudan (LL3: South Sudan; this refers to the most severe type of humanitarian crisis), which features a real South Sudanese man, Apu Riang and his family who, like so many of their country people, have been caught in the civil war and resulting famine that has affected the new country.
It's a confronting situation but one that desperately needs to be publicised so people outside of South Sudan understand that once the cable news channels have ceased to have any interest in the story, that there is still an immense amount of need there, and hence, help desperately needed.
The World Food Programme is playing a pivotal role in alleviating the dire need, and its stories such as that of Apu Riang and his family that is underscoring how dire the situation truly is and how much needs to be done.
As Apu Riang says in the video, filmed as part of a two week information-gathering trip by World Food Programme staff – head of television communications Jonathan Dumont, head of graphic design and publishing Cristina Ascone, and LL3: South Sudan's writer Joshua Dysart – you only make the decision to take your family on a perilous long journey from your homeland if there is really no other choice.
The aim of of LL3: South Sudan is to galvanise the international community to act and act now; any delay could cost lives, many lives, and the fictional aid worker in the graphic novel, Leila Helal, plays a key role in making clear how great a task she and her colleagues face.
The aim has always been to accurately document what is happening in South Sudan and as Ascone notes in a Mashable article:
"It's taken many, many months because South Sudan is [complicated]," Ascone said. "You need to be very careful about what you're saying and how you're saying it. We needed to make sure we're portraying the country, the people, everybody in the right way."
While it aims to be engaging, that is merely a means to an end with the take-away message a vitally important one.
"Basically it says, if people know these stories, then there's hope. Because then there's the chance that, whether it's the World Food Programme or the U.N. or the international community, somebody will care. Somebody will be able to do something to help.

"I think that's the takeaway. And I think that's something the reader can use."