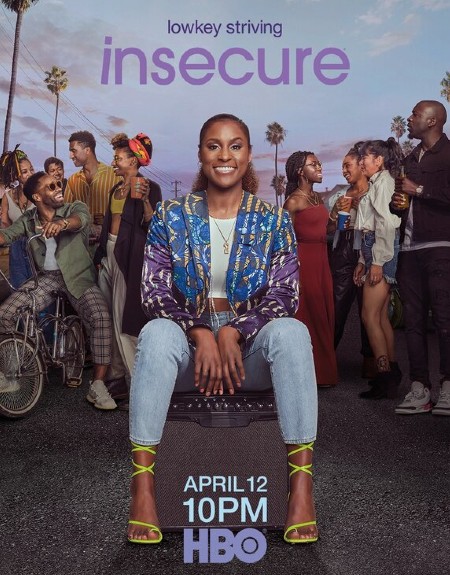 Transitions in life are never easy.
Exciting, sure. Ripe with possibilities, certainly. But easy? Rarely, if ever.
That becomes abundantly clear in the fourth season of Insecure where Issa Dee (Issa Rae) is trying to get her event organising career off the ground.
The plan is to stage a big block city in her local neighbourhood of Inglewood, showcasing a slew of Black businesses and artists and encouraging a coming together of the local community in ways that might not otherwise happen organically.
It's an exciting plan but it involves a lot of work and the first five episodes of the season revolve around the planning and delivery of an event that will not only reflect the changing face of Inglewood but which has the potential to transform Issa's life too.
It is the only forward bit of momentum in her life at the time, with her foundering relationship with bestie Molly Carter (Yvonne Orji), a lawyer trying to balance a demanding career with a promising new relationship with Andrew (Alexander Hodge) and concomitant with that, the surfacing of all kinds of inner demons, sinking beneath the waves.
Her romantic life isn't looking too flash either with Nate (Kendrick Sampson) around but not available until he is and then he maybe isn't, and her ex and still close friend Lawrence (Jay Ellis) circling around, although it's clear exactly what he wants from Issa until near the end of the season.
That's a whole of transitioning going on, and in typical style, Insecure, created and co-executive produced by Rae, whose star is very much on the rise, doesn't shy away for a moment from the contrary messiness of it all.
It also doesn't shy away from the fact that even the most traumatic or uncertain of circumstances can have a humourous lining.
Whether it's witty oneliners from Kelly (Natasha Rothwell) or some new mummy vibes from Tiffany (Amanda Seales), Insecure isn't afraid to have some fun with the serious stuff.
That is, after all, part of its enduring appeal and why HBO was willing to wait longer than normal and jack up the episode order to ten – the show knows that life can somehow be stressful and wryly funny all at once and it is nothing if not true to life's weirdly mixed rhythms.
It continues to be absolutely gorgeous to look at too.
If anyone ever tells you, Los Angeles cannot be beautiful, your exhibit A should always be the sun-dressed visual wonders of Insecure.
Much as many movies and TV shows give New York or Paris a fairytale glow, Insecure grants Los Angeles a transcendent beauty all its own, beginning and ending each episode, and bookending scenes within the show with a lushness that speaks to the aspirational nature of the show and its characters.
Issa, Molly and everyone else in the show are all looking for life to step up, to go cool and exciting places it has never gone before and if they have to work for it, then fine, they have to work for it, and they will – damn hard.
The visuals marry into this thematic approach seamlessly, conjuring up an aesthetic that is often more suggestive of things being on the up-and-up than they actually are.
Because if there is one thing, Issa, Molly, Kelli, Tiffany, Lawrence et all it's feet-of-clay human and what they aspire to may not be always what they get.
Not straight away, anyway, and certainly not all at once.
Take Issa as an example.
The block party has every chance to be super successful and in the end – SPOILER ALERT! – it is but that's after a number of near misses, including a little self-sabotage and faltering sense of self-belief, and some less that perfect moves in pursuit of her vision from Issa including one that further imperils the already precarious friendship with Molly.
But does it mean the wand is waved and all of Issa's hopes and dreams come home to roost at once?
Not even close, with the same going for Molly who may have a dream job and a gorgeous man but can never seem to hold the two things in perfect sync; but then, who of us can?
If there's one clear message from this highly-entertaining, funny, insightful and grounded show, especially in its fourth and longest season to date, it's that life rarely plays to our expectations.
Sure, hard work and tenacity can usually make things happen, and happen spectacularly well, but that's a firm guarantee that everything will work to a tee, and the sooner you make your peace with that the better.
Helping you along, of course, when things don't go according to plan, are close friends, and while Insecure spends much of this season making merry with the key relationships that underpin the show, especially that between Issa and Molly, it returns again and again, whether negatively or positively framed, to the fact that all the things we get or don't get in life mean not a thing with no one by your side to celebrate them or help you lick your wounds.
Proof positive of that is the final scene of episode 10, "Lowkey Lost" where two key characters come right back to the place where they reaffirm the centrality of their relationship to all the things that matter to them.
It underscores in ways resonant and truthful that if you go to strive for great things and put the pieces in places for big life transitions, you need to pay most attention to the people who are there for you, good and bad, because without them, all that striving is hollow and empty which kind of defeats the point of embarking on it in the first place.
Season 5 is definitely happening so rejoice and be glad.