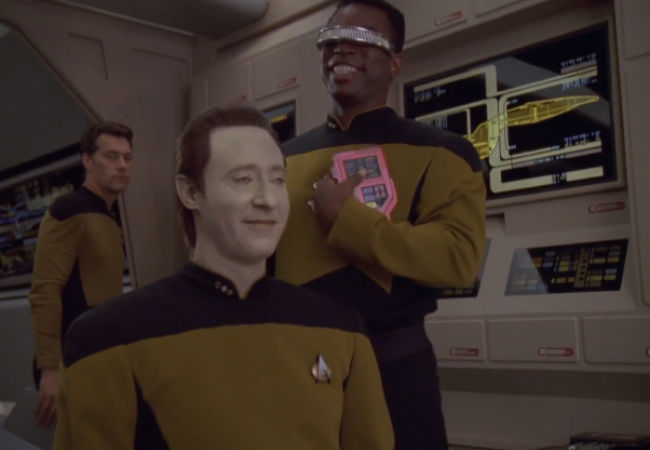 It's serious business going boldly where no one has gone before.
Much as Picard and his hardworking, seriously intense crew would like to spend all their time having a good chuckle in Ten Forward with their shipmates or throwing down a synthale and share some laughs with sexy Andorians on Risa, they're usually got their hands full, as c|net notes, dealing with "both hostile and friendly aliens, dangerous warp core meltdowns, Klingon run-ins, holodeck subplots and constant struggles with the Prime Directive."
With all that going on, finding time for a bit of a giggle can be a bit of a challenge on a scale of magnitude of trying to get rid of Q somewhere this side of the end of the universe but as this brief blooper reel, released ahead of the December 2 unveiling of Star Trek: The Next Generation season 7 on Blu-Ray, shows, that doesn't mean to say that Picard, Riker, George, Worf, Data and Beverly Crusher (no sign of Deanna; standing off to one sign analysing all this merriment perhaps?) can't find some silliness exploring the universe.
In fact as the blooper reel, which exclusively premiered on Uproxx, makes clear there's quite a bit of fun to be had if you're looking for it, even if as Captain Picard, who has his foot stood on in a rather bleeper-inducing way by a backward-walking Crusher on a mission, would attest, you may not laugh about it till well after the fact.
Whatever the cause of the mirth, watching Data and Geordi share a major attack of the giggles or Riker going dashing after a rather attractive crewmate is so funny that you begin to think even a Vulcan might find it all a bit hilarious.
Right yes, that's taking it a bit too far probably but it is funny and a reminder that even in space they can hear you can laugh.